New water jet cutter for Fine Mechanical Department
The Fine Mechanical Department's (FMD) new Wardjet A0612 will cut anything using a 4000 bar water jet. This enables the FMD to work faster, more accurately, and to perform more versatile jobs.
'It is so cool that we have this now', says Emiel Wiegers. Like boys with a new toy, the men of the Fine Mechanical Department are gathered around the Wardjet A0612, the new water jet cutter that cuts materials using a fiercely blasting water jet under a 4000 bar pressure.
Wiegers and his colleague Christiaan Pen love to demonstrate it on camera. They fix a sheet of steel above a water reservoir, and the robot-controlled jet head is positioned right above it. An extra tube serves to add abrasive, small hard grains that are taken along with the water jet to do the real cutting.
Christmas atmosphere
As soon as Pen hits the button, the jet fires. Water jet cutting makes a lot of noise, and a fine mist of backscattered droplets drifts over the meter high plastic window. Exactly 36 seconds later, a steel FMD-logo is ready.
'It can cut aluminium up to 10 centimetres, and steel, stainless steel, plastic and wood, but also aluminium oxide', explains Eigers. That last material is ceramic, which means that it is very tough but also brittle and hard to cut. But the FMD succeeded: at the first attempt, the sheet broke, but the second yielded an unblemished FMD logo'.
Christmas is still alive in the FMD-workspace: several reindeer, baubles and other season's gadgets have been cut out, all to get a good feel of the machine. A more serious steel spring has been cut as well.
Randje van de mogelijkheden
'It has cost 80 thousand euros. There was a budget to be finished', says Arjen Geluk, head of the Fine Mechanical Department. A water jet cutter is new to FMD's roster. It cuts with a precision of 0.1 millimeters and is very fast. 'This means that we can deliver parts rapidly. Using this, we can seek out the limits of what is possible in house.'
FMD already used a similarly able spark erosion machine, which has higher precision. But it can only cut electrically conducting materials, and is much slower.
FMD makes parts for scientific instruments for all FWN researchers, most for physicists. But all researchers and technicians with an idea are welcome, says Geluk. Especially when the new A0612 can be used.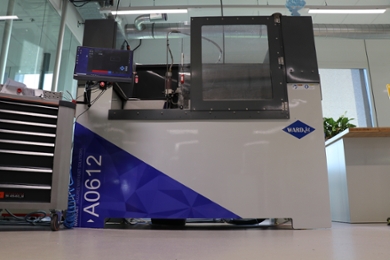 Anyone interested is welcome at FMD's introduction of the water jet cutter's possibilities, Friday 17 January at 15.00 in FMD's workplace (EE:0.00, Gorlaeus). Anyone is welcome, registration is not necessary.
text: Bruno van Wayenburg