Eventful opening of academic year: minister in the church, protest on the square
Not one but two openings: the minister who defended her plans and many who emphasised the importance of standing together with the arts and social sciences: the opening of academic year 2019-2020 in Leiden was not without event.
It was a special first day of the new academic year with not one but two opening ceremonies being held in Leiden on 2 September. During the traditional ceremony in Pieterskerk, Minister of Education, Culture and Science, Ingrid van Engelshoven, outlined her plans for higher education – while on the nearby 't Gerecht square over a thousand researchers, students and supporting staff expressed their dissatisfaction with the plans at 'The Real Opening' protest meeting. A protest that was also supported by the Executive Board of Leiden University and many other universities.
Protest by colleagues from WOinActie
This was also apparent in the welcome speech by Rector Magnificus Carel Stolker. Before he handed over to Van Engelshoven, he showed footage from Het Gerecht, where his colleagues from WOinActie were preparing for their own opening of the academic year. Led by, as Stolker put it, 'ad-hoc rector Remco Breuker,' Leiden Professor of Korean Studies. Then Stolker turned to the Minister. 'The last year has been a difficult one, which has led to a lot of resistance within academia: at The Royal Netherlands Academy of Arts and Sciences, NWO, and the broad and young universities.'
Van Engelshoven sticks to Van Rijn
Minister Van Engelshoven admitted that she felt somewhat uncomfortable taking to the lectern. 'I understand that a lot of people here in the church and outside are angry. But do appreciate that the Cabinet is all too aware of how crucial the humanities and social sciences are.' Despite this, the Minister appeared to stick to the suggestion of the Van Rijn Committee to transfer funds to science. She called this, 'an emergency repair along the lines of a tree on the train track or pothole in the road.'
'Emergency repairs to a system that is really in need of major maintenance are rarely pretty,' she added, 'but we can't wait any longer to increase the capacity of our science programmes. Businesses are crying out for technical staff. And now more young people are finally choosing to study science, they can't always find a place.' But she didn't make any concrete pronouncements about these controversial plans: 'I mustn't get ahead of Prince's Day.' However, she did say that a total of 58m will be transferred from the second to the first flow of funds, 18m of which will go directly to general universities.
Remove contradictory incentives
The 'major maintenance' that the higher education system needs involves, according to Van Engelshoven, removing contradictory incentives. She was referring to how funding depends on student numbers, for instance. 'That's why I am already choosing to move from variable funding that is based on student numbers to a more fixed form of funding. This will already reduce one of the contradictory incentives.' To finish, the Minister called for even more collaboration between the universities and all of the disciplines. 'Our complex world cannot cope without this. We have to move from a competitive system to a cooperative one.'
Science needs the arts and social sciences
A musical interlude was provided by the students from Collegium Musicum before Vice-Rector Magnificus Hester Bijl took to the stage. She emphasised the importance of the entire package of arts, science and social science programmes. Because how otherwise do you generate acceptance for new developments? And what about the ethical aspects of such developments? These are issues in which science can use the help of the arts and social sciences. 'Economic growth and robust societal challenges require more university graduates. Let's invest in these; money is available.'
New students: dare to choose!
Bijl then turned to the new students: 'We provide a wealth of opportunities within and alongside your studies, inside and outside the University: associations, for instance. This means making choices.' She advised the students to follow their own path and not be influenced by what others do or show on social media. 'You don't have do everything straight away. And you can choose not to do some things at all.' Bijl proved to be aware that first-generation students and students with a foreign background are more likely to switch degree programmes and drop out completely. She said she could see that the measures that the University has taken to retain them are proving successful.
Thijs Porck best lecturer in 2019
The opening of this academic year was extra special for Thijs Porck. He won the Leiden University Student Platform (LUS) Teaching Prize, a prize for outstanding achievements in the area of teaching. 'His teaching ideas are never-ending,' said LUS chair Nienke Wit. 'He devotes an incredible amount of time to developing unique teaching methods such as blogs and films.'
Students can nominate a lecturer for the LUS Teaching Prize each year. The LUS then attends lectures by the nominees before coming up with a shortlist. Alongside Porck, Francesco Ragazzi and David Zetland made it to the top three this year. Porck emerged as the winner after the interview round. In his acceptance speech, he expressed his support of his protesting colleagues outside. 'A thousand years ago, English King Alfred already appreciated the importance of the arts and social sciences, when he ordered the translation into Old English of philosophy, history and theology books for the education of the people.'
Gratama Science Prize for obesity research
Mariëtte Boon also received a prize during the ceremony. She was awarded the Gratama Science Prize, an incentive prize for young researchers who have distinguished themselves in innovative, socially relevant and high-profile research. At the LUMC, Boon is researching brown fat, a type of fat cell that can convert energy into warmth. This may make an important contribution to the fight against obesity.
'Boon's pioneering work has put the research at Leiden into the role of brown fat in fat and carbohydrate metabolism on the international map,' said Reinier Gratama from the Gratama Foundation. He awarded Boon with the research grant of 25,000 euros. 'She is also working hard to challenge the stigma of obesity. A good example of this is the publication of her book "Vet Belangrijk," which was a real bestseller.'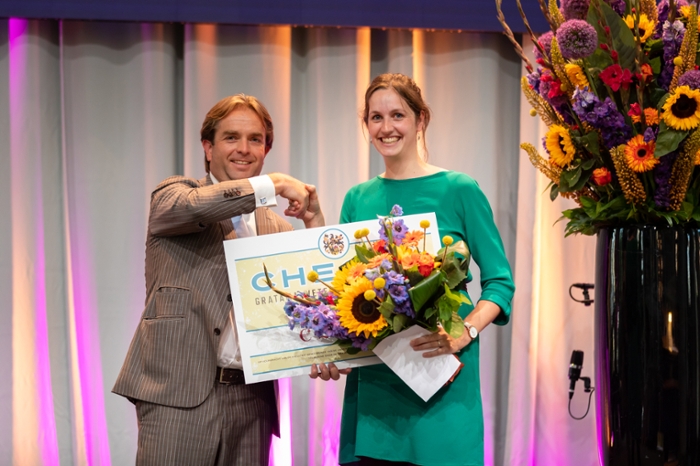 Contribution of all disciplines
The last word went – as it does every year – to Rector Magnificus Carel Stolker. 'We as universities have not managed to bring the importance of good teaching and research into the political spotlight. The message is always: "things could be more efficient." But there are limits to this and these have been reached.' According to Stolker, this relates to not only workplace stress but also recognition and appreciation of the importance of the social sciences and humanities. 'They deserve our appreciation not only as the "auxiliary disciplines" of engineers and scientists but as disciplines in their own right.'
Stolker called for a social contract for higher education and research. 'And that will not be possible without intensive collaboration between government, research universities and universities of applied sciences, and secondary schools.' He spoke about how institutions in Zuid-Holland are working together in different ways, for instance in the Leiden-Delft-Erasmus and Medical Delta partnerships.
Try not to feel overwhelmed!
The Rector Magnificus ended by addressing the students. 'Make use of the advantages of studying at a broad university, and choose courses from the whole spectrum that Leiden University offers.' And with a big smile he added: 'And don't worry! Look at me: repeat a year twice and it can still come right in the end. Try not to feel overwhelmed!'
Fierce protest against redistribution of higher education funding
On the same day, over a thousand researchers and students protested in Leiden against the plans to redistribute money to science and technology at the expense of other disciplines. They did this just around the corner from Pieterskerk, where at that moment Minister for Education, Culture and Science, Ingrid van Engelshoven was giving her speech at the opening of the academic year of Leiden University. Read more
Photos: Monique Shaw
Mail the editors