Fierce protests against Education Minister's redistribution plans
Over a thousand researchers and students protested in Leiden on 2 September against the plans to transfer money to science and technology at the expense of other disciplines. Just metres away, Minister of Education, Culture and Science, Ingrid van Engelshoven, was giving a speech at the opening of the academic year.
On a packed Gerecht square, researchers and students from all over the Netherlands had gathered to make their voices heard at the alternative opening of the academic year – dubbed 'The Real Opening.' As 'host', Leiden Professor of Korean Studies, Remco Breuker, kicked off the demonstration. 'The current crisis in academic research and teaching may appear to be all about money, but that's just a symptom,' he said. 'We as a society no longer seem to know what to do with academia if it's not being hammered into a dizzying array of grants, subsidies, lump sums and returns.'
Infighting
Breuker called for more cooperation and solidarity: 'That also means that one tribe of researchers doesn't polish off government grants at the expense of another one.' He warned of the consequences: 'A society without wide academic freedom is no free society at all. History has proven that.'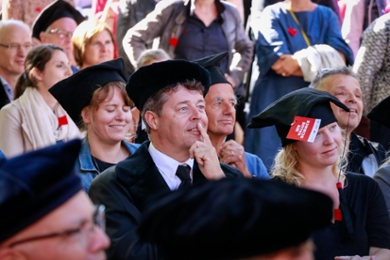 Fuel to the flames
The demonstration, which was supported by the Executive Board of Leiden University, was the initiative of the WOinActie protest group. This group has been campaigning for some time already against conditions in higher education, such as high levels of stress, lack of job security and the unequal distribution of funds. The Van Rijn Committee's plans to transfer funds from the arts, social sciences and medical sciences to science and technology are fuel to the flames. This will have drastic consequences for broad universities such as Leiden University.
Gap between academic policy and needs of society
The other speakers also denounced the plans and current conditions in higher education and research. Birgit Meyer (Religious Studies, Utrecht University) said there was a big gap between the Ministry of Education, Culture and Science's academic policy and the academic practice that society needs. 'Cuts to the arts and social sciences reveal a lack of vision about what society needs in an era of globalisation, mass migration and climate change.' Her words met with resounding applause from the demonstrators, as did the words of the other speakers.
Played off against one another
Mathematician Arne Smeets (Radboud University) is one of the initiators of the 'Scientists against Van Rijn' petition. He pointed out that the disciplines are becoming increasingly interconnected and that science, technology, the arts, the social sciences and medicine need one another. 'But we are now being cynically played off against one another.' Students had also come to the protest to make themselves heard. Alex Tess Rutten, Chair of the Dutch Student Union (LSVb), said: 'Solidarity between students and researchers forms the basis of a strong movement. We won't take it anymore!' WOinActie is now in discussions with the FNV trade union, LSVb and the Academic Union (VAWO) about whether to hold further protests in this new academic year.
Piecemeal contracts
Filosoof Carlo Iernas was een van de ruim duizend demonstranten. 'De afgelopen drie jaar had ik in totaal twaalf contracten bij verschillende universiteiten, waaronder in Leiden. Nu heb ik drie tijdelijke contracten. Het zijn allemaal kleine aanstellingen, soms maar voor één vak in één semester: knutselcontracten. Geld voor een vast contract of grotere aanstellingen is er niet. Als de bezuinigingsplannen echt doorgaan, is dat voor mij persoonlijk een ramp. Veel bèta-en techniekwetenschappers zeggen dat ze juist andere disciplines nodig hebben. Filosofen zijn bijvoorbeeld van belang om de ethische kant van techniek te onderzoeken.'
Photos: Sean van der Steen
Text: Linda van Putten
Mail the editors
Alex Tess Rutten, Chair of the Dutch Student Union (LSVb)

Leiden archaeologist Gerrit Dusseldorp was also there.