Successful LLX Roundtable on Brexit, parliaments and the road ahead
Few problems occupy the minds of European policy and lawmakers as much as the impending Brexit. With developments moving fast and insecurity rising, national parliaments are taking on an increasingly assertive role. The Europa Institute therefore organised a Leiden Law Exchange on Brexit, parliaments and the road ahead.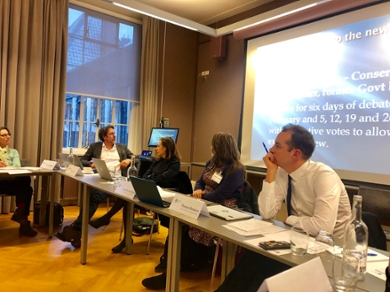 Following the well-established format of the LLX, the Roundtable brought together academics and practitioners, including lawyers and civil servants, to engage in an open discussion under Chatham House Rules.
It had the honour of receiving four distinguished speakers to introduce the discussion. The two first speakers brought a view from the United Kingdom to the table. Maya Lester QC discussed the Wightman case on the possibility to withdraw the UK's notification that it wanted to leave. Gavin Phillipson (Bristol University) then looked at the current developments in the House of Commons, following the rejection of the draft Withdrawal Agreement. Hanneke van Eijken (Utrecht University) zoomed in on the rights of EU citizens and the way in which the Withdrawal Agreement and Dutch emergency legislation seek to protect these. Finally, Thomas Beukers (Dutch Ministry of Foreign Affairs) discussed some of the political decisions that were taken early on in the Brexit process, having significant legal implications. He also briefly looked at the emergency measures that are being put in place both at EU and at national level, preparing for the possibility of a no-deal exit.
The organisers, Prof. Jannemieke Ouwerkerk, Dr. Armin Cuyvers and Dr. Jorrit Rijpma would like to thank both the speakers and participants for their valuable insights and contribution to the discussion.