EU Financial Markets: East meets West
Matthias Haentjens and Ross Spence participated in Warsaw conference and PhD workshop on 16 & 17 November 2018.
The European Centre for Economic and Financial Governance (EURO-CEFG) of the Universities of Leiden, Delft and Rotterdam and the Centre for European Economic Law and Governance (CEELG) of the University of Wroclaw, together with the University of Warsaw, the European Capital Markets Institute (ECMI), the Centre for European Policy Studies (CEPS) and Bruegel organised a high-level conference in Warsaw titled "EU Financial Markets: East meets West". The conference consisted of four panels with speakers from academia, policymakers and high-ranking supervisors from all over Europe. The topics discussed were: regional differences in financial intermediation; the Euro area and its neighbours; social utility of the financial system; and the Capital Markets Union.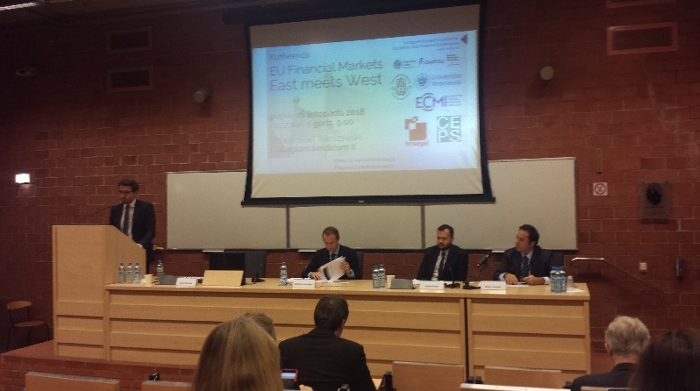 At this conference, Professor Haentjens participated in an expert panel where he was invited to speak on the topic of the "Capital Markets Union: EU-wide Capital Market or Regional Consolidation?". In particular, Professor Haentjens talked about the operational and legal issues that arise in a common law and civil law context with regard to asset segregation. His main argument was that a deeper Capital Markets Union will require more private law harmonisation.
As part of this conference, the Young Researcher Group of the European Banking Institute co-organised with the EURO-CEFG and CEELG a young scholars workshop on: "bridging the gaps in EU financial regulation", held on 17 November 2018. Selected young scholars presented their research that stimulated discussion with senior researchers from academic institutions in the EU. During this workshop, Ross Spence spoke about bridging the regulatory gap between the traditional banking sector and the shadow banking sector.