Here's to the next 443 years as a bastion of freedom
'Praesidium Libertatis is a daily responsibility.' These were the words of Rector Magnificus Carel Stolker on 8 February during the 443rd Dies Natalis of Leiden University. The University needs to pay continuous attention to open debate if it wants to remain a bastion of freedom.
Lightning strikes at Leiden University on a regular basis, and this is a good thing, Stolker remarked from the lectern in the Pieterskerk. A recent example was the clash between Leiden academics Leo Lucassen and Geerten Waling on the question of whether the position of Jews in the 1930s can be compared with that of Muslims today. Stolker himself is often asked whether such outspoken academics as Afshin Ellian and Paul Cliteur should still be welcome at the University.
'A university can only be a bastion of freedom if it is also a safe haven for the spoken and written word,' Stolker said in his address. 'And this is only possible if we are prepared to enter into debate with people who think differently from us. If we don't do that, we run the risk of limiting ourselves to mainstream thinking, or we appoint only those people who think the same as us. And this while academia is based on diversity of views. So, let the lightning strike. As Rector of the University, I am as a matter of principle not supposed to interfere in the content of the debate, although I am responsible for shaping and facilitating that debate.'
Raising children stress free
In line with tradition, two Leiden professors delivered a lecture to celebrate the University's foundation day. This year the two speakers were Bernet Elzinga and Thomas Hankemeier. Bernet Elzinga - Professor of Stress-Related Psychopathology in Leiden - explained how can we combat stress in our hectic lifestyle. 'This may not be the most cheerful topic for a birthday party, but it is important to be aware of it, because we know from research that many students and staff experience high levels of stress. The upbringing we were given by our parents also plays a role in determining how we will handle stress later in our lives and how susceptible we are to developing psychological complaints.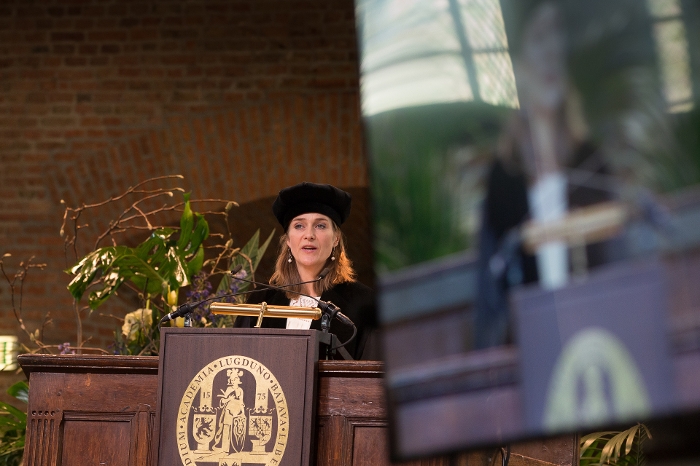 Elzinga is studying the influence of genes, personality traits and parental behaviour in a group made up of three generations of some 60 families. The lessons from this research are also important for the 'descendants' of our University, Elzinga assured the audience. 'Uncertainty is a breeding ground for brilliant insights, so let us relearn the art of failing and wandering from the beaten path.' And: 'Don't only celebrate major successes, but organise from time to time a failure party for courageous failures!'
Growing old in a healthy way
Whereas Elzinga talked mainly about young people, the second lecture focused more on the final phase of life: old age. The message of Thomas Hankemeier, Professor of Analytical Biosciences, was full of hope for the listeners in the Pieterskerk: it may well be possible for us in the near future to learn from a person's blood whether he or she is likely to suffer from Alzheimer's at a later date, and this knowledge brings prevention of the disease a step closer. Hankemeier believes the key is in metabolomics, mapping so-called metabolites. These are products of metabolism, the outcome of the interaction between genes and environmental factors such as nutrition and lifestyle.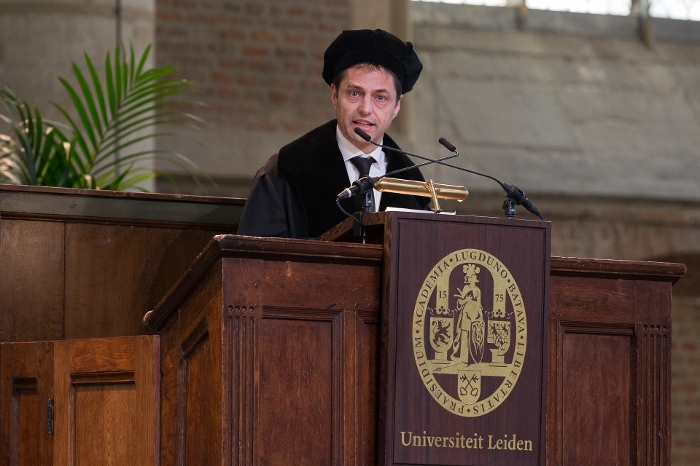 Metabolomics gives us information on which vital bodily processes are working well and which may be impaired. 'You can compare it to the road network: we can see precisely where the traffic is moving freely and where there is a hold-up. And we can see how different processes are connected: roadworks on one motorway may have an effect on many other roads. Metabolomics broadens our insights on how we can age more healthily.'
Talented students on stage
Halfway through the programme three young students took to the stage in the Pieterskerk. The trio, comprising horn player Emiel Beinema, oboe player Maud Busschers and pianist Friederike Pank, gave an interpretation of two classical works. The three are students of the Practicum Musicae programme at the Academy of Creative and Performing Arts. In parallel with their study programme at Leiden University they also follow an instrumental major at the Royal Conservatoire in The Hague.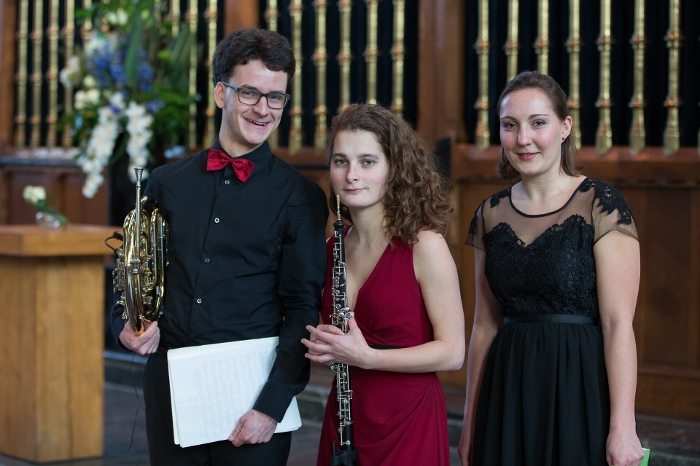 Honorary doctorate for studies on Europeanisation
As part of the Dies Natalis celebrations an Honorary Doctorate was conferred on Adrienne Héritier. Héritier, Professor of Political Sciences at the European University Institute in Florence, was nominated for an Honorary Doctorate by Leiden Professor Bernard Steunenberg. Steunenberg is full of praise for her work: 'Héritier has conducted pioneering research on the so-called Europeanisation of government policy. Thanks to her, we have a better understanding of how national governments and interest groups raise societal problems at European level.'
In her word of thanks Héritier talked about how she first came to Leiden in the 1980s – funded by an Erasmus grant from the European Union, no less. She discussed her PhD topic with fellow PhD candidates from Leiden, Bielefeld, Paris, Bologna and Madrid. 'It was a truly European moment,' the brand-new Honorary Doctor explained. Since then she has always maintained a close bond with the City of Keys, particularly because academics from the Faculty of Governance and Global Affairs also conduct a great deal of research on Europeanisation.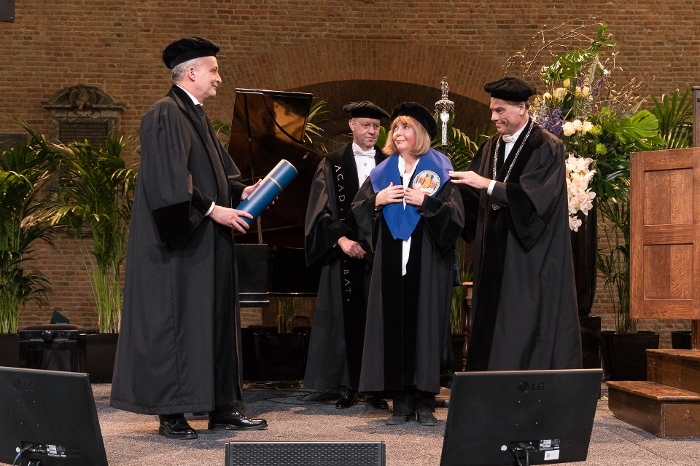 Not the only birthday
Exactly on the day of the Dies Natalis, the Leiden student LGBT+ movement was also fifty years old; it was in 1968 that the Leiden Student Working Group on Homosexuality saw the light of day. To celebrate this milestone, the rainbow flag was flying over the Academy Building. In the Pieterskerk it was also clear that this year it was not only the birthday of the University that was being celebrated: sympathizers with the LGBT+ movement wore something pink or rainbow coloured to mark the occasion.