Science delegation enhances influence in China
A large delegation composed of 11 delegates from institutes from the Faculty of Science has made an extensive visit to China and enhanced Leiden's influence in the Chinese academia, industry and local government.
Leiden as linking pin
By hosting PhDs and visiting scholars from China, Leiden institute 'start to be a linking pin in important dossiers', said professor Arnold Tukker, scientific director of Institute of Environmental Sciences (CML). 'What I see happening in the Industrial Ecology field is that the different universities and even schools in China are often not yet working together. But when CML hosts PhDs and visitors working on similar subjects, CML in fact starts to be a linking pin in important dossiers such as circularity and renewable energy. It is quite a nice position.'
In the past two years, CML has developed close ties with top universities in China such as Tsinghua, Tukker adds, and has hosted a good number of PhD candidates and visitors from China. In the faculty trip in November, one of CML's goals was recruiting top quality PhD candidates to join in 2018.
A similar observation is made by scientists in the field of computer science and statistical science. Due to the rapid economic development and large population, China offers many important topics for research and could possibly provide the necessary data. 'It is very interesting to know the leading enterprises in the relevant industry,' says Marcello Bonsangue, Education Director of Leiden Institute of Advanced Computer Science (LIACS). 'Somehow they represent the direction in which the research might be going in the future. Having the connection with China helps us to keep the leading position within our research.' During the trip Bonsangue visited companies such as Baidu, as LIACS is very active to collaborate with Chinese partners.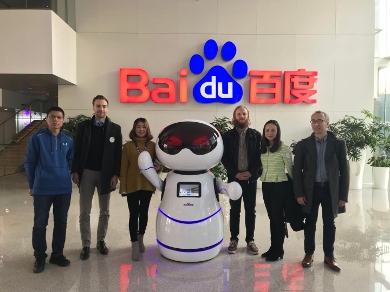 Largest Leiden University delegation to visit China
The delegation of Faculty of Science was by far the biggest delegation sent to China from Leiden University to date. A total of 11 delegates from the fields of environmental sciences, computer science, astronomy, drug research, statistical sciences and from the faculty joined. The delegation included:
Arnold Tukker: Scientific director / professor of Industrial ecology, Institute of Environmental Sciences (CML)
Marcello Bonsangue: Director of education / associate professor, Leiden Institute of Advanced Computer Science (LIACS)
Paul van der Werf: Director of education / professor of Extragalactic astrophysics, Leiden Observatory (STRW)
Koen Kuijken: Professor of Galactic astronomy, STRW
Bernhard Brandl: Professor of Infrared astronomy, STRW
Ignas Snellen: Professor of Observational astrophysics, STRW
Simcha Jong Kon Chin: Professor, Director of Science Based Business (SBB)
Daan van der Es: Assistant professor, Leiden Academic Centre for Drug Research (LACDR)
Kevin Duisters: Lecturer, Deputy director on Education and International Collaborations, Statistical Science, Mathematical Institute (MI),
Yun Tian: China Officer, Faculty of Science, Leiden University
Marianne van Driel: Internationalisation and PR staff member, Leiden Observatory
Deepening partnership with top Chinese universities
The Leiden delegation visited ten universities and institute in different cities in China, including Xi'an Jiaotong University, Tsinghua University, Beijing Normal University, Nanjing University, Northwestern Polytechnical University, Fudan University, Tongji University, East China Normal University, China Pharmaceutical University, Chinese Academy of Sciences Institute of Urban Environment.
The Leiden Observatory only recently started to actively pursue collaborations with several universities in China, and things got off to a flying start. During the Leiden Observatory's second visit to China professors Paul van der Werf, Koen Kuijken, Bernard Brandl and Ignas Snellen visited Nanjing University for a joint workshop. Professor Koen Kuijken gave a colloquium at Tsinghua University, which was very well attended. At Beijing Normal University, Education Director professor Paul van der Werf signed a memorandum of understanding and an agreement for a summer programme.
This was professor Ignas Snellen's first visit to China, and he was very impressed: 'As they have built FAST, the largest radio telescope in the world, it is evident China has big plans when it comes to astronomy. It is great timing for the Leiden Observatory to intensify relations with China's top universities in the field of astronomy.'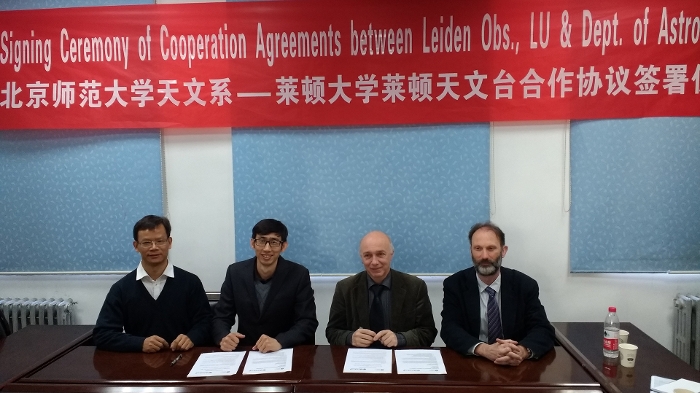 Workshops and colloquiums were held at the partner universities. Also, discussions on the joint research and education programmes were held. Ambitious projects such as developing joint research centres were also brought into agenda during the meetings.
In Xi'an Jiaotong University, Beijing Normal University and China Pharmaceutical University, the Leiden delegation organised events called 'Meeting the prospect students', for direct communication with students interested in the master's and PhD programmes.
Five delegates from CML, LIACS, LACDR, STRW and SBB participated in PhD workshops in Beijing and Shanghai and met over 100 students interested to work in Leiden under funding of the China Scholarship Council.
Connecting with industry and local governments
The Leiden delegation also paid visits to leading companies in relevant industries, such as Baidu and Microsoft Asia. The scientists also had a glance in the Tsinghua Science Park and were very impressed by the structural transfer of science and technology into business and subsequent feedback to future research. In addition, a first contact was made with Gongshu District, Hangzhou, in search of possible collaborations with local Chinese governments in the future.