Group of experts in the field of international child abduction visits the Child Law Department
On 18 October 2017, Leiden Law School was honored to welcome a group of experts upon invitation of Prof. M.R. Bruning, professor of Child Law and head of the Child Law Department of Leiden University, to discuss current and future research projects in the field of international child abduction law and child participation.
Aim of the gathering was to discuss possible future academic research related to the 1980 Convention on Child Abduction and the 1996 Hague Child Protection Convention of the Hague Conference on Private International Law (HCCH).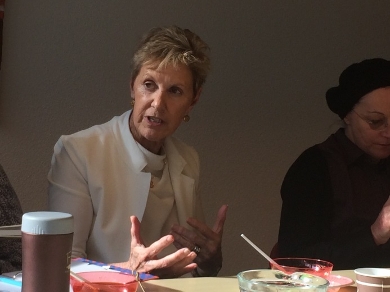 The delegation consisted of Prof. Nicola Taylor, Alexander McMillan Leading Thinker Chair in Childhood Studies and Director of the Children's Issues Centre in New Zealand; Prof. Marilyn Freeman, Family Law specialist, in particular in the area of Child Law in London, at University of Westminster; Prof. Rhona Schuz, Co-Director of the Center for the Rights of Children and Family at Sha'arei Mishpat Law School (Israel) and recently retired Chief Justice of the Family Court in Australia Diana Bryant, Chair of the Working Group of the HCCH on a guide of good practice on article 13(1)(b) of the 1980 Convention on Child Abduction.


After this gathering, the delegation joined for lunch with the current class of students of the advanced LL.M. programme International Children's Rights at Leiden University. The experts shared their experiences and research on the topic with the students. In all, it was a very interesting meeting filled with new ideas for future academic research.