New book about front lines European politics by Luuk van Middelaar
On Wednesday 27 September a new book by Prof. Luuk van Middelaar will appear, entitled The new politics of Europe. Frans Timmermans, the European Commission's first vice-president, presents the book that evening during a symposium around the same theme.
The book is at the same time a front line account of Europe's recent crisis years – from monetary turmoil to tensions around Ukraine, from refugee crisis to Brexit – and an analysis of the Union's new political and institutional relations. In honor of the publication of the book, the KNAW organises organizes a symposium on 'The New Politics of Europe', which will include Frans Timmermans. Registering for the symposium and book launch can be done here.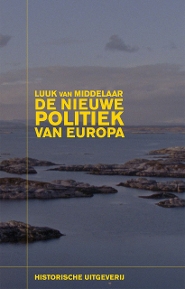 Van Middelaar, since two years holder of a chair in "Practice and Foundations of the European Union and its institutions", at the Europa Institute of the Law Faculty, experienced from 2010 until 2015 the centre of Brussels actions, and saw Europe's metamorphosis unfolding in front of his eyes. When the assembled national leaders discovered what it really meant to share one currency, one external border, one Union, a new awareness of its own role and place developed within the European Council. At the same time, the breath-taking European election years 2016 and 2017 showed an unexpected awakening of a real political opposition, which loudly and visibly defied the Brussels consensus. Convincingly Van Middelaar links the dynamics of long evolutions with incoming events and electoral revolts, and a Europe that acts.
This book is a sequel to the author's The Passage to Europe (original edition 2009), translated into ten languages and awarded numerous prizes; and builds upon his September 2016 Inaugural Lecture at Leiden University, "De Europese Unie en de gebeurtenissenpolitiek" ("The European Union and the politics of events").
De nieuwe politiek van Europa, Historische Uitgeverij, 372 blz. ISBN 9789065542465.