Willemien den Ouden new Academic Director Institute of Public Law
Professor Willemien den Ouden has been appointed as the new Academic Director of the Institute of Public Law starting 1 September 2017. She will take over from Professor Wim Voermans who has held this position for the past seven years.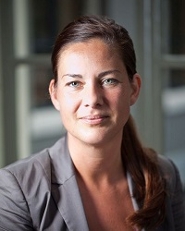 As Professor of Constitutional and Administrative Law at the Department of Constitutional and Administrative Law and as a Research Fellow of the E.M. Meijers Institute, Willemien den Ouden focusses mainly on administrative law. In research and teaching her field of expertise is European and Dutch financial administrative law (subsidy regulations, limited public rights, concessions, the law on European structural funds and state aid, and educational funding) and general administrative law. In the period 2012 to 2016 she was also Dean of the University Honours Academy where she guided this honours programme towards its full potential.
Dean Professor Joanne van der Leun: 'Wim Voermans has fulfilled his position as Academic Director in an outstanding manner and the Faculty is highly indebted to him for this. Besides his constructive contributions, we will miss his wonderfully descriptive metaphors. The Academic Directors of this Faculty work together as a strong team, and we are particularly pleased with the administrative experience and initiatives of Willemien den Ouden as his successor. We very much look forward to working with her'.
Professor Willemien den Ouden: 'The Institute of Public Law is a large institute which has many excellent researchers who also make important contributions to the teaching of law. Thanks to the current institute management team, and in particular the current Academic Director Wim Voermans, most matters are extremely well organised! I am especially looking forward to strengthening cooperation between the various departments at the institute. I believe that we can benefit even more from our combined strengths'.