442nd Dies Natalis focuses on Asia
On the 442nd anniversary of the foundation of Leiden University, and at the start of the Leiden Asia Year, lawyer Jan Michiel Otto, an expert in the field of law in developing countries, delivered the first Dies lecture. He compared demagogues in Asia who call upon Muslims to turn against their governments and against pluralism with the populism of Geert Wilders.
Asia!
The theme of the Dies Natalis was Asia, a theme that was touched upon in all the day's speeches. The music was also typically Indonesian: gamelan music. The second Dies lecturer, Maria Yazdanbakhsh, explained the connection between parasitology and the relationship between the Netherlands and Indonesia. Honorary Doctor Frank Dikötter is an expert on China. The Rector also referred to the Asia Year. 'Our Asia collection is one of the world's most extensive: it attracts researchers and students from all corners of the globe. It's important for us to celebrate our links with Asia in grand style.'
Ahok
In Jakarta, Indonesia, according to Otto, the current governor Ahok, a Christian who was brought up in an Islamic foster family, is facing a charge of blasphemy, brought about by puritan Muslims. 'He had declared at an election meeting that Surah 50 from the Quran, a clause prescribing that Muslims should not accept leadership by a non-Muslim, is not to be used for political purposes.' Moderate and puritan Muslims take opposing views. 'In the Netherlands, populist politician Wilders has had some success with his tirades against Islam, immigration and the elite.' Here, too, we see the supporters of a politician and those oppose him ranged against one another.
Cornelis van Vollenhoven
Legal scholar Cornelis van Vollenhoven, a professor in Leiden from 1901 to 1933, regarded law as a possible route to peace and prosperity. 'But the rule of law can also be threatened by 'baatzucht', an old Dutch word that encompasses such traits as excessive greed, pride, thirst for power and a sense of superiority.' Van Vollenhoven was instrumental in shaping the legal system in Indonesia, in which adat law and aspects of the sharia are integrated. 'The aim: unity in diversity. But for that unity to be successful, space and respect for the public sphere are needed, was Van Vollenhoven's premise, along with a body of decent civic officials and self-control among citizens: they have to treat one another with humanity.' All this still applies today, was Otto's message.
Asian Library
Otto was introduced by Rector Magnificus Carel Stolker. 'The sun never sets in Leiden,' was his premise. He not only launched the Leiden Asia Year, to mark the opening of the impressive new Asian Library in the Leiden University Library, but also spoke of Leiden's expertise on other continents: Central and South America, and since last year Africa, with the Africa Studies Centre now formally a University institute. This year, the University and city are focusing firmly on Asia.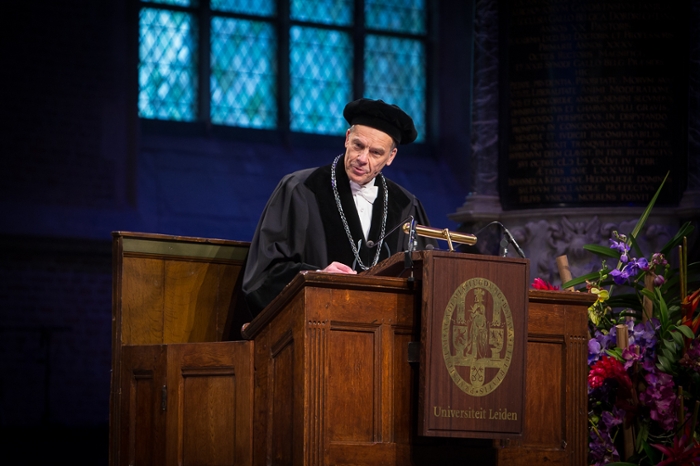 'Universities are open communities'
'We are living in a highly complex age,' Rector Magnificus Carol Stolker said. 'It is now more important than ever for universities and their cities to show what they stand for: open, diverse and inclusive communities of researchers and students worldwide who contribute to resolving all the major questions facing our world.'
Mutual benefit
The second Dies lecture was also about Indonesia. Maria Yazdanbakhsh, Professor of Parasitology, drew a parallel between her field of research and the relationship between the Netherlands and Indonesia. 'New knowledge on parasitology teaches us that parasites not only cause illnesses, but at the same time they protect the host from contracting other conditions, such as diabetes, auto-immune diseases and allergies.' Yazdanbakhsh believes that we have to abandon our old way of thinking about parasitism, and start to regard it as mutualism: a relationship where two organisms benefit one another.
Fewer infectious diseases, more diseases of affluence
Yazdanbaksh believes that this same change in approach also applies to the relationship between the Netherlands and Indonesia: from historic dependence to mutualism based on a mature, equal partnership where both countries can benefit. Increasing urbanization in Indonesia can be compared with the development that Europe underwent a hundred years ago, with the same changes in disease patterns: fewer infectious diseases, more diseases of affluence. 'Indonesia can almost be regarded as an exciting living laboratory. With the contribution of our universities, our first-class technological platforms and our well-trained staff, we can improve the future health situation in both countries.'
Frank Dikötter, the Grand Historian
China expert Frank Dikötter was awarded an Honorary Doctorate by Leiden University. Dikötter, born in Geleen, is a professor at the University of Hong Kong. He is a specialist in the early years of the People's Republic of China. His book People's Trilogy about the Great Leap Forwards and the Cultural Revolution is a standard reference work for anyone wanting to understand the disastrous megalomania of Mao Zedong and his comrades. In Hong Kong, as a result of this work Dikötter has been given the nickname Sima Qian: 'the Grand Historian'.
Personal stories
'What we see today is that facts and figures are not always enough to convince the public,' commented honorary supervisor Hilde de Weerdt, Professor of Chinese History. 'Dikötter's work stands out not only because it shows an insatiable appetite for archive research, but also because he tells personal stories behind the facts. It brings forth empathy, not only with the victims, but also with the perpetrators.' On the day prior to the Dies Natalis, Dikötter gave a public lecture on the Cultural Revolution.
Cherish our universities
Stolker brought the Dies celebrations to a close with a heaertfelt appeal. He referred to the 'anger' that is permeating the Netherlands and the world: critics are sowing doubt about the importance of science. In numerous countries, including Turkey, Iran and the United States, education and research are coming under pressure. It's fine to ask critical questions, but we have to be wary of undermining that which we are intending to support, was the Rector's message. Because current developments at home and abroad show how important it is to cherish our universities and how much we need their unfettered teaching and research. Our aim without University is to use our research and teaching to bring about a safe, sustainable, prosperous and just world.'
Students' dreams
'This ambitious approach calls for broader collaboration within the University, Stolker commented, 'across both research and teaching. Students are increasingly asking for a broader range of programmes and a mix of disciplines. 'It is not the big societal questions that are putting us under increasing pressure to work together more effectively, but also our students' dreams. Collaboration starts with getting to know one another. As a first step, I would like to ask you, when you are at the reception, to start a conversation with a colleague, someone you don't already know.' Maybe something wonderful will come from it!