Security needs cooperation
Interdisciplinary cooperation between public and private actors is of vital importance for facing contemporary security and global affairs challenges. This was the main conclusion of two conferences hosted by the Institute of Security and Global Affairs of Leiden University from 7-10 November 2016. The opening was performed by deputy mayor of The Hague Ingrid van Engelshoven and Professor of Terrorism and Counterterrorism Studies Edwin Bakker.
Contemporary security and global affairs challenges such as terrorism, cyber attacks and modern warfare are more often than not analysed from an interdisciplinairy perspective. Not only the security industry, but also schools, community associations and community police agents find themselves involved in security efforts. This asks for new forms of cooperation. Considering this, what kind of challenges will we face and does this bring us closer to a secure society? Together with 400 participants from the public and private sector, Leiden University tried to answer these questions during two international conferences in The Hague.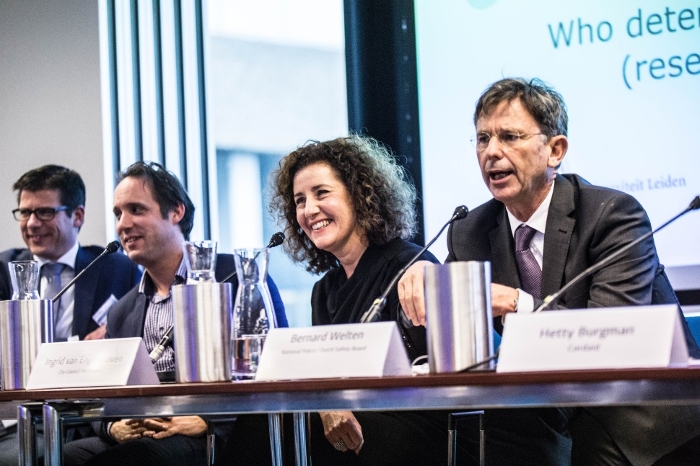 From left to right: Edwin Bakker (ISGA), Marco Zannoni (Institute for Security and Crisismanagement), Ingrid van Engelshoven (City Council The Hague) and Bernard Welten (National Police) discuss their own security agenda.
A better understanding of terrorism
The first conference was organized by the Institute of Security and Global Affairs (ISGA) of Leiden University and the Society for Terrorism Research (STR) on 7 and 8 November. The conference focussed on studies concerning the understanding, confronting and preventing of terrorism. 'That is why we considered it to be important to not only invite academics but also policymakers and representatives from several counterterrorism professions', according to Bart Schuurman, conference coordinator and researcher at ISGA. 'This way, we can make sure research can truely make a difference when it comes to tackling contemporary security challenges. We are very proud to have welcomed almost 200 participants from Europe, North America, Australia and Azia to our conference'.
Bringing the public and private sector together
The second conference was organized by ISGA on 9 and 10 November and was focussed on security governance. More than 200 local, national and international professionals and students gathered in The Hague to discuss the central question: 'Who determines the security (research) agenda?'. Both speakers and participants agreed that interaction between academics and the public and private sectors is of utmost importance when it comes to analysing security issues and determines the security agenda. This is where ISGA can play a significant role. Scientific director of ISGA Edwin Bakker states: 'Do not operate independently but in a cooperative manner: we need each other when it comes to governing security. The ISGA Conference was a successful first attempt in achieving that ambition'.
Participants of the ISGA Conference work together during a crisis simulation.
'Optimize, not maximize security'
Many prominent speakers from both the security and global affairs field attended both conferences. David Baldwin for instance spoke about the relation between power, international relations and security - "we want to optimize, not maximize, security" - and terrorism expert Beatrice de Graaf (Utrecht University), dean Inge Hutter (Institute of Social Studies) and Dick Schoof (National Coordinator of Counterterrorism and Security) discussed who or what determines the security (research) agenda.
"Always take the perspective of the citizen into consideration. If you miss that, you miss the total perspective on security "- Inge Hutter (Institute of Social Studies)
(Pictures Kasper van Steveninck)
More information
View this page for more pictures and information about the ISGA Conference and ISGA. For more information on STR, please click here. Interested in a summary of the topics discussed during the ISGA Conference? Please send an email to isga-conference@fgga.leidenuniv.nl indicating your interest.