Leiden University and UNICEF the Netherlands extend cooperation
On Wednesday 24 August 2016, Leiden University and UNICEF in the Netherlands extended their successful cooperation for another five years. During this period they will work together on an international centre for expertise on children's rights supported by the UNICEF Chair in Children's Rights.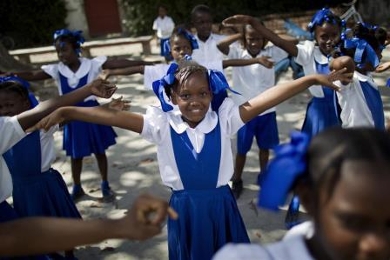 This centre for expertise will focus on fundamental and applied research into children's rights and the training of students and professionals. The proposed centre will link law to other academic disciplines, both national and international, taking law and the United Nations Convention on the Rights of the Child as its point of departure.
Professor Ton Liefaard: 'In order to give real substance to children's rights, academic research and teaching on children's rights for students and professionals is of the utmost importance. This is what we want to continue to work on in the coming years, together with UNICEF.' Jan Bouke Wijbrandi, Director of UNICEF in the Netherlands, adds: 'Our cooperation provides knowledge in both depth and breadth about the UN Convention on the Rights of the Child. This is of crucial importance for putting children's rights into practice, and it will therefore have a positive impact on the rights and welfare of children – which is UNICEF's mission'.
Five years ago, UNICEF and Leiden Law School started an initial five-year period of cooperation. Throughout these years, the UNICEF Chair in Children's Rights , the Master Jeugdrecht and the Master of Laws Advanced Studies Programme in Children's Rights were established, and academic research into children's rights resulted in publications both in the Netherlands and abroad. The annual Summer School Frontiers of Children's Rights was also accomplished.