Prof. Stahn on Prosecuting Human Trafficking as a Crime Against Humanity
On 22 March 2016, Prof. Carsten Stahn spoke on prosecuting Human Trafficking as a Crime Against Humanity at a Conference on International Criminal Justice, hosted by the Collaborative Innovation Center of Judicial Civilization of Zhejing University in Hangzhou, China.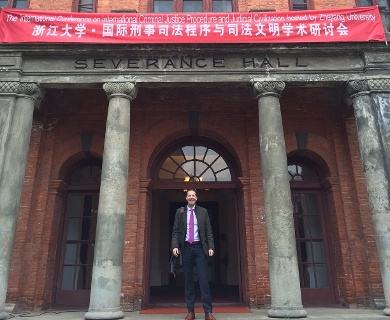 Human trafficking is third largest criminal business in the world, after drug and arms trafficking. Prof. Stahn argued that the ban of human trafficking emerged partly independently of the anti-slavery movement the beginning of the 20th century, but was largely subsumed under the crime of enslavement by international criminal courts and tribunals. He showed that the current conceptualization as a crime against humanity captures only a part of the phenomenon of trafficking in persons, namely situations where trafficking coincides with the exercise of ownership over persons, and where it is carried by groups with the capacity to commit widespread or systematic attacks against civilians. He commented on human trafficking in the 3rd ed. of the Triffterer/Ambos Commentary on the Rome Statute of the International Criminal Court.