Best Advocate General in the European Law Moot Court Competition – Another Victory for Leiden Law School
On 15 April 2016, the All-European Final of the ELMC took place at the European Court of Justice in Luxemburg. Emma Gheorghiu, a student on the Advanced LL.M. in European and International Business Law at Leiden Law School, took home the trophy for the prestigious award for best Advocate General.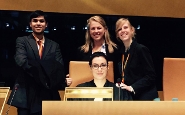 Emma presented her pleading in front of a jury of several judges and Advocates General from the Court of Justice of the EU.
Emma's team, Justice League, consisting of consisting of Anais Michel, Emma Gheorghiu, Maxime van den Dijssel and Soham Banerjee, all students of the LL.M. in European and International Business Law and the LLM in European Law at Leiden Law School ended up as runners-up in the regional final in Helsinki in February 2016, and were unlucky to miss out on a place in the All European Final themselves! Emma also won the AG competition at this regional final.
Also in February 2016 a second team of Leiden Law School, Advocati Diaboli, consisting of Camille Limon, Matz Wronski, Nikolay Kyosev and Ramazan Yildirim, all students of Leiden's LL.M. in European law represented Leiden Law School at the ELMC regional final in Athens were they performed well.
The European Law Moot Court is the most prestigious competition for EU law. Students from all over the word submit written and oral pleadings on complex issues of European Union law. This years'case revolved around a possible conflict between the EU carbon emissions trading scheme and fundamental rights. The final of the Competition is hosted by the Court of Justice of the EU in Luxemburg.
The victory of Emma as Advocate General in 2016 is another success in the line of achievements by students of Leiden Law School in the ELMC. In 2013 a team from Leiden Law School won the award for Best Team, and in 2015 Leiden Law School took the prize for Best Written Memorials. The teams were coached by Moritz Jesse, Agis Karpetas, Daniel Carter, and Ilektra Antonaki.