CML researcher Merlijn van Weerd wins Parker/Gentry Award 2015
CML Researcher Merlijn van Weerd wins Parker / Gentry Award 2015 for Conservation Biology at Field Museum Chicago in recognition of his commitment to biodiversity conservation in the Philippines
Award
On 15 September 2015, The Field Museum in Chicago presented the prestigious Parker/Gentry Award to Merlijn van Weerd, in recognition of his commitment to biodiversity conservation in the Philippines. The Parker/Gentry Award is in memory of Theodore A. Parker III and Alwyn Gentry, ardent conservationists and leading naturalists who lost their lives while surveying hill forests of western Ecuador. The Parker/Gentry Award is given annually by the Museum to honor an outstanding individual, team or organization whose efforts have had a significant impact on preserving the world's rich natural heritage and whose actions can serve as a model to others.

Merlijn receives Parker Gentry Award from President Lariviere of the Field Museum in Chicago
Research in the Philippines
Dutch biologist Merlijn van Weerd began working in the Philippines in 1999 as a wildlife biologist to help establish the Northern Sierra Madre Natural Park in northern Luzon as one of the largest and most diverse protected areas of the Philippines. During this project, Merlijn and his team discovered a remnant population of the critically endangered Philippine crocodile. This endemic freshwater crocodile is one of the rarest animals on the planet with an estimated total wild population of less than 250 adult individuals.
The philippine crocodile

In 2003 Merlijn and colleagues established the Mabuwaya Foundation to continue Philippine crocodile research and conservation and to generate public support for this work. The name Mabuwaya is a combination of the Filipino words Mabuhay and Buwaya meaning "long live the crocodile". The Mabuwaya Foundation took a unique people-centered approach to crocodile conservation by generating public support for crocodile conservation through communication campaigns, and by involving local communities in crocodile conservation planning. As a result, co-habitation and acceptance of crocodiles has been achieved in several localities in northern Luzon. The Philippine crocodile population increased from 17 non-hatchlings in 2001 to over 60 non-hatchling crocodiles in 2014 with the potential for further recovery.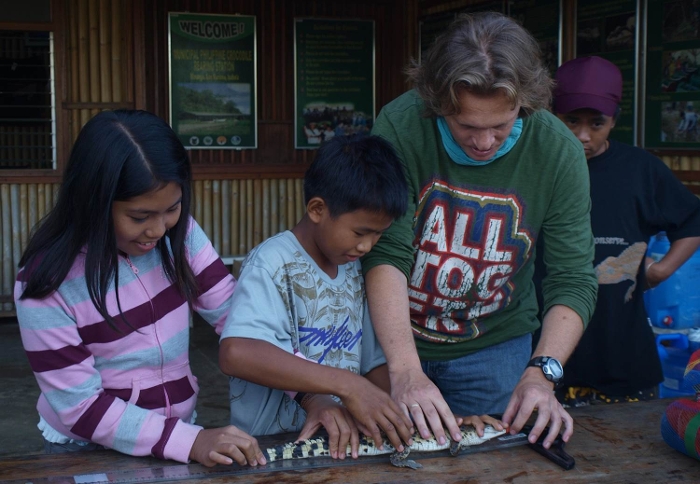 Merlijn with school children measuring a crocodile

Part-time employed by Leiden University, Merlijn spends a large part of the year as volunteer director and fund raiser of the Mabuwaya Foundation, one of the larger local conservation organizations of the Philippines. The organization has broadened its scope to conserve all endemic biodiversity of northern Luzon. Recently, they've been working on endangered giant fruit bats, the very rare endemic Isabela Oriole, the Philippine Eagle and the fruit-eating monitor lizard Varanus bitatawa which was co-discovered and described by Merlijn and colleagues as a new species in 2010. Merlijn and his colleagues regularly publish their research in prominent scientific journals, and work extensively with students and faculty at local and international universities to further build their capacity as conservation biologists and advocates. Among others, Merlijn coordinates the annual course on water management in the Philippines for students of Leiden University and the Philippine Isabela State University.
News items