Exhibition on Celebrating Curiosity: Four centuries of university history
Fascinating images, articles of clothing and other unique objects from the past four centuries of the history of Leiden University can now be seen in the 'Celebrating Curiosity' exhibition in the hall of Rapenburg 70.
16th/17th century: Copper engraving of the foundation of the university
The engraving shows the procession at the foundation of the university on 8 February 1575. The procession of professors and soldierspassed through the city centre to the New Academy, the Barbara monastery on the Rapenburg. This building, that is no longer in existence, was the university's first location. The plaque, that is normally displayed in the Academic Historical Museum, was made in or around the year of the university's foundation. The symbol of the Leiden keys features strongly in the engraving.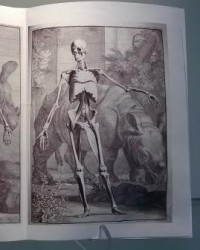 18th century: Anatomical drawings with rhinoceros by Jan Wandelaar
This anatomical illustration dating from 1747 appeared in 'Tabulae sceleti et musculorum corporis humani', the best know work by anatomist Bernhard Siegfried Albinus. What's interesting about this illustration is the rhinoceros in the background. Until the eighteenth century very few rhinoceroses had been seen in Europe. Clara, an Indonesian rhinoceros, was probably the model for this drawing. Captain Douwe Mout van der Meer of the Dutch East India Company probably brought the Indonesian rhinoceros back with him from Asia to Rotterdam in 1741. For seventeen years he travelled with Clara to different European cities, including Leiden, to show her to the public.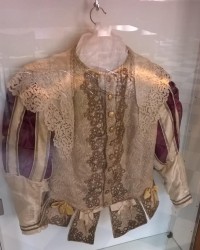 19th century: Masquerade costume belonging to William, Count of Nassau
In the nineteenth century the University celebrated its anniversary with a historical masked parade, organised by the students. The first masquerade took place on an evening in February 1825. In subsequent years the masquerade developed into a summer spectacle with expensive costumes that attracted an audience of thousands. The costume worn by William Count of Nassau dates from 1895. Many masquerade costumes from the twentieth century have been preserved, but costumes from the nineteenth century are much rarer because the material is so delicate.
20th century: Fragments of the bell from the Academy Building
Leiden was bombed several times at the end of the Second World War. The bombing in 1943 was so severe that the vibrations caused the bell in the tower of the Academy Building to fall and break. The bronze fragments have been preserved by the Academic Historical Museum as a symbol of the consequences of the Second World War for Leiden University.
Celebrating Curiosity
The 24 students of the master's programme in Arts & Culture who are taking the specialisation in Museums & Collections, designed the 'Celebrating Curiosity' exhibition for the Museum Matters course taught by Nana Leigh. The exhibition celebrates the 440th anniversary of the foundation of Leiden University. The exhibition was inspired by the book 'Edele wijze lieve bijzondere' (2015) written by Professor of University History Willem Otterspeer about the history of Leiden University.