2011 ERC Grant for Bleda Düring for research on Hegemonic Practices of the Middle Assyrian Empire of Tell Sabi Abyad
The European Research Council had awarded a Starting Independent Researcher Grant to Bleda Düring for the project Consolidating Empire.Reconstructing Hegemonic Practices of the Middle Assyrian Empire at the Late Bronze Age Fortified Estate of Tell Sabi Abyad, Syria, ca. 1230 – 1180 BC.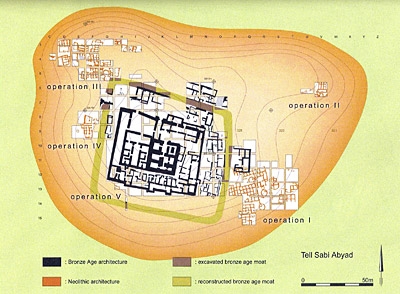 The origins of imperialism, a socio-military system in which hegemony is achieved over alien territories, are poorly investigated. This applies in particular to how imperial strategies affected local communities. This project will investigate the hegemonic practices of one of the earliest stable empires: that of the Assyrians, by focussing on new data from the Late Bronze Age fortified estate at Tell Sabi Abyad, ca. 1230-1180 BC.

The Assyrians created a network of strongholds, ranging from cities to farmsteads, in conquered territories to consolidate their hegemony. The fortified estate at Tell Sabi Abyad is the only extensively investigated of these Assyrian settlements. This settlement is both small and well preserved and has been almost completely excavated. The complete plan facilitates a study of the spatial properties of this fortress and how it structured interactions. Further, the estate contained a wealth of in situ finds, which allow for a reconstruction of activity patterns in the settlement. Finally, over 400 cuneiform tablets were found which shed light on the local social and economic situation and the broader imperial context.
This project will provide a bottom up perspective on the Assyrian Empire. Elements of the Tell Sabi Abyad estate that will be investigated include: spatial characteristics; activity areas; the agricultural economy; and the surrounding landscape. Further, data from the Middle Assyrian Empire at large will be reconsidered, in order to achieve a better understanding of how this empire was constituted. This project is innovative because: it investigates a spatial continuum ranging from room to empire; brings together types of data usually investigated in isolation, such as texts and artifacts; will involve the use of novel techniques; and will investigate the short term normally beyond the scope of archaeology. The research will contribute to the cross-cultural issue of how hegemonic control is achieved in alien territories, and add to our understanding of early empires.
ERC Starting Independent Researcher Grants (ERC Starting Grants) aim to support up-and-coming research leaders who are about to establish or consolidate a proper research team and to start conducting independent research in Europe. The scheme targets promising researchers who have the proven potential of becoming independent research leaders. It will support the creation of excellent new research teams and will strengthen others that have been recently created.