Labour Law and Social Security
Van der Heijden Chair Social Justice
On the occasion of prof Paul van der Heijden's stepping down as Rector Magnificus and President of the Executive Board of Leiden University in 2013 the Chair bearing his name on Social Justice was established. It was a "farewell present" of the Leiden University to it's Rector.
The Chair is closely related to Van derHeijden's work as scholar and his longterm involvement in the work of the International Labour Organisation, ILO. From 2002 – 2017 he was independant Chair of the ILO's standing Committee on Freedom of Association.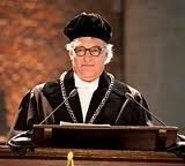 Every October the Social Justice Lecture is held by the Chairholder.
In 2014 prof Lance Compa was the first, his Lecture was titled: Re-Planting a Field: Labour Law for the Twenty-First Century.
In spring 2016 an international congres was held on the topic "Ensuring Coherence in fundamental Labor rights Case Law" where among other things the president of the European Court Dean Spielmann, spoke about Proliferation of Fundamental Labor Rights Enforcement Mechanisms.
In the fall of 2016 the lecture was held by prof Alan Neal (Warwick University, UK).
In 2017 prof Frank Hendrikx (Universiteit Leuven, België) gave the lecture titled: Social justice and labor rights: EU and ILO face palms in the governance web.