Academy of Creative and Performing Arts (ACPA)
Thalia Hoffman
Thalia Hoffman is a visual artist and researcher working in film, video, performance, and public interventions in the area she lives in, east of the Mediterranean. In 2020 she graduated from the Leiden University PhDArts programme, with the thesis Guava, a conceptual platform for art-actions.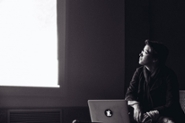 The aim of the Guava Platform is to research and create techniques that are part of Hoffman's quest to continue to live in the conflicted landscape, as an artist. All her work strives to be involved in its surroundings and engage people to look, listen and feel their socio-political landscape with attention.
Hoffman's films, video works and performances have been shown in exhibitions and festivals in Israel and around the world. Among them the Tel Aviv Museum of Art, The Haifa Museum of Art, Mamuta Art Centre in Jerusalem, Beit HaGefen Gallery in Haifa, The Jerusalem film festival, Experiments in Cinema Festival in New Mexico, Aesthetica Film Festival in the UK, and The Video-Art festival in Cairo.
Alongside her artistic actions, Hoffman is a lecturer in the BA and MFA art programmes of the University of Haifa in the fields of video, performance and artistic research.
Thalia Hoffman's research practice
In 2018 Hoffman, together with the Beit HaGefen Gallery in Haifa, and in earlier collaboration with the Mamuta Art and Research centre in Jerusalem, initiated a research group of artists with the name Here/Then and Now ( كان ועכשיו ) . This group gathers once a week and participants think and discuss how they can evolve their artistic practice, art tactics and skills in relation to their local surroundings and living conditions. It explores various models of artistic intervention, and focuses in particular on conversations, which can last up to six hours each time. Conversing and being dedicated to these conversing meetings is the only official expectation from the participants.
Thalia Hoffman's research for the IRG
As part of the IRG, Hoffman intends to further research, contextualize, and problematize the propositions and methods used in her conversing practice. She is also interested to see how conversation might be engaged with as a specific research method in interdisciplinary and transdisciplinary groups such as IRG itself.