Lecture
LCCP Lecture Heidegger, Agamben and Biopolitics
Date

Thursday 28 September 2023

Time

Series

Location

Room

0.11
Leiden Centre for Continental Philosophy is pleased to announce a talk by Marco Piasentier and Antonio Cimino.
Heidegger, Agamben and Biopolitics

Giorgio Agamben has drawn significant inspiration from the works of Martin Heidegger, and this influence is evident throughout his Homo Sacer project. By presenting two distinct yet complementary papers, this seminar will delve into Agamben's interpretation of Heidegger's philosophy. The aim of this joint presentation is twofold. First, to evaluate the validity of Agamben's biopolitical interpretation of Heidegger's concepts; and second, to analyse the account of life elaborated by the two philosophers. The two papers are titled as follows: 'Bare life, facticity, and biopolitics in Agamben and the early Heidegger' by Cimino, and 'The Anthropological machine and its reversal' by Piasentier.

Antonio Cimino's paper 'Bare life, facticity, and biopolitics in Agamben and the early Heidegger' is here:
https://www.cambridge.org/core/journals/review-of-politics/article/bare-life-facticity-and-biopolitics-in-agamben-and-the-early-heidegger/7A6FEC0FDC2B9EEC2F618FC482A9B782
Marco Piasentier's paper 'The Anthropological machine and its reversal' is forthcoming in the next issue of Angelaki. You can ask for the manuscipt by sending a mail to s.e.lindberg@phil.leidenuniv.nl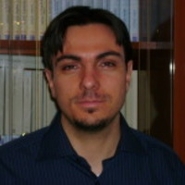 Antonio Cimino is Associate Professor of History of Philosophy at the Center for the History of Philosophy and Science, Radboud University. He obtained a PhD in philosophy from the University of Pisa, Italy. He is an alumnus of the Scuola Normale Superiore (Pisa, Italy) and a former Humboldt research fellow. He conducted research in Pisa (IT), Tübingen, Freiburg im Breisgau, Wuppertal (DE) and Fribourg (CH). His main fields of research are the history of contemporary European thought and the reception of ancient philosophy in modern and contemporary thought.




Marco Piasentier is a University Researcher in Centre of Excellence in Law, Identity and the European Narratives and team leader of the subproject Discovering the Limits of Reason - Europe and the Crisis of Universalism (University of Helsinki). His work chiefly focuses on themes in Post-Nietzschean European philosophy and the genealogy of science. He is the author of On Biopolitics: An Inquiry into Nature and Language (Routledge, 2020) and founding member of the Journal of Italian Philosophy (Newcastle UP).