Classics (research) (MA)
The research master's in Classics, a specialisation of the Classics and Ancient Civilizations (Research) programme at Leiden University provides you with a multidisciplinary study of the Greek and Roman world.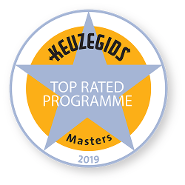 Classics and Ancient Civilisations was voted as a top rated programme in the Netherlands by the Keuzegids 2019 ranking
The Research MA programme in Classics and Ancient Civilisations has received the label 'top programme' in the Keuzegids Masters of March 2019. The study guide bases its results on the opinion of students (through the National Student Survey) and experts (NVAO).
Why study Classics (research) at Leiden University?
The two-year Classics (Research) specialisation at Leiden University is part of the oldest Classics department in the Netherlands, with chairs held in Latin and Greek since the university was founded in 1575 – making for an almost five hundred year tradition in the field.
Learn more about the study programme
Learn from internationally acclaimed scholars
The programme is taught by academic staff internationally renowned for their research work. Research in Classics at Leiden University is at the leading edge of the field. You will also benefit from the collaboration of classicists from different Universities in the National Research School in Classics (OIKOS).
Develop your skills and knowledge
During the programme you will develop your skills and knowledge across the full range of traditional Classics topics, including Greek and Latin Literature, Linguistics, Rhetoric, Aesthetics, Ancient Philosophy, Ancient History, and Renaissance Latin; but the programme also introduces you to more innovative approaches to classical texts, including Cognitive Approaches and Digital Classics.
Find out more about the career prospects
It is also possible to study Classics within the one-year Master's programme Classics and Ancient Civilisations.
Classics (Research) degree
Classics (Research) at Leiden University is an accredited degree programme. After successful completion of this programme, you will receive a research master's degree in Classics and Ancient Civilizations and the title Master of Arts (MA).