Onderzoeksproject
Understanding the uptake and internal distribution of metallic nanoparticles in Danio rerio larvae
The aim is to discover where differently shaped metal nanoparticles distributes in Danio rerio, linking the distribution with genomic responses and so come up with a Mode of Action.
Looptijd

2014 - 2018

Financiering

NWO Vidi 2013

Partners

Partner
Short abstract
Metal-based nanoparticles are widespread used in consumer products around the world. Knowledge concerning metallic NPs and their potentially harmful environmental effects remains poorly documented. This project aims to get mechanistic insights into the uptake and internal distribution of different-sized and shaped metallic particles
Project description
The rapid growth of nanotechnology inevitably results in the eventual exposure of organisms to nanometer-scale materials. Nanometer-scale materials exhibit different physical and chemical properties compared with larger-sized materials. The risk and adverse impacts associated with nanomaterials for environment and human health is increasingly gaining attention, and so that a new research topic, nano(eco)toxicity, is blooming.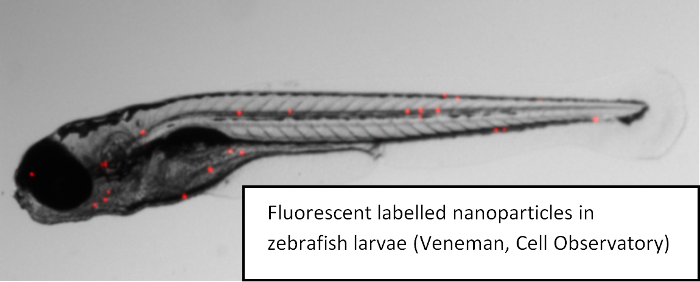 Uptake and internalization processes of nanoparticles can be unraveled in various ways. We approach the research questions by combining advanced microscopy techniques with ecotoxicological testings and genomic patterns.