Proefschrift
How lawyers win land conflicts for corporations: Legal Strategy and its influence on the Rule of Law in Indonesia
Op 23 juni 2020 verdedigde Santy Kouwagam haar proefschrift 'How lawyers win land conflicts for corporations: Legal Strategy and its influence on the Rule of Law in Indonesia'. Het promotieonderzoek is begeleid door promotoren prof.dr. A.W. Bedner en prof.dr. C.E. von Benda-Beckmann.
Auteur

Santy Kouwagam

Datum

23 juni 2020

Links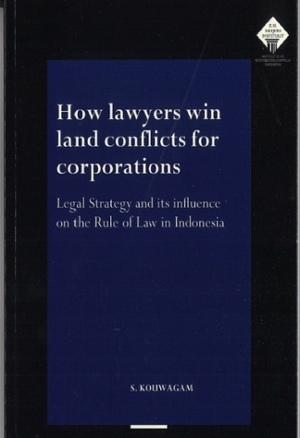 This research is about the actions taken by lawyers in Indonesia to win land rights for corporations. In order to perform these actions, they not only deploy the weaknesses in the law, but their strategies are supplemented with an acquired structural advantage: social capital in the form of loyalty of others they have vetted, such as judges, policemen and prosecutors.

The dissertation gives a comprehensive account of the field that makes the strategies possible from multiple angles, such as courts, business actors, the condition of the rules, and then continues to expose the strategies. It is concluded by highlighting the specifications to the condition of the Rule of Law in Indonesia which need special attention and offer suggestions for substantive and sustainable legal reform.