Looking back on the LGA symposium
On Saturday 16 January 2016, the Faculty of Archaeology opened its doors to welcome over 100 archaeology and living archaeology enthusiasts from all over the Netherlands. They were participating in a full-day symposium organised by Céline den Engelsman and Casper van Dijk, BA3-students from the archaeology honours track "Crossing the Borders in World Archaeology". The symposium was organised as the partial fulfilment of their honours internship, which aims to involve students in bringing archaeology to the larger public.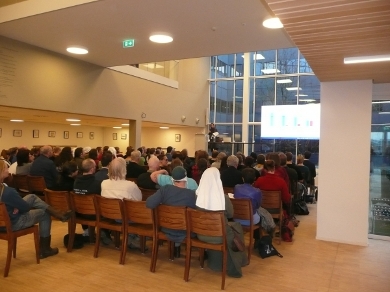 Programme and activities
The symposium started with an introduction by prof. Annelou van Gijn, professor of Archaeological Material Culture Studies (Faculty of Archaeology, Leiden University). Four other researchers from the Leiden Faculty of Archaeology had been invited to speak as well.

Drs. Annemieke Verbaas talked about experimental and experiental archaeology and dr. Carol van Driel-Murray, famous among living archaeology enthusiasts because of her investigations and publications of leather objects, presented information about leather objects used by Roman armies, including tents, saddles and shoes.

RMA-student Valerio Gentile presented a talk, enlivened by exciting film fragments of combat experiments, entitled "Reconstructing Bronze Age Combat – Conciliating Realism With Variables Control".
Dr. Roos van Oosten discussed developments in medieval cooking pots, focusing on a revolution in cooking practices and the importance of experimental archaeology in investigating and understanding these developments.

In addition, two workshops were organised for all participants. Anton Reurink, textile specialist, conducted a workshop on medieval cloth and dr. Roos van Oosten focused on ceramics related to the late medieval transition from beer consumption to wine consumption.
A lively debate between professional archaeologists and archaeology enthusiasts concluded the sessions.
Enthusiastic reactions
Participants reactions showed that they were enthusiastic about the contents of the presentations and the workshops, the delicious medieval lunch offered (prepared by Die Edelike Spijse) and the networking possibilities during the coffee breaks and drinks at the end of the symposium.

One of the comments on the symposium's Facebook page stated: "Wat een ontzettend leuk initiatief, echt veel leuke informatie tot mij kunnen nemen. Boeiende sprekers die zelfs onderwerpen die je eigen tijdsperiode niet helemaal raken toch boeiend wisten te brengen. Fijn dat de vrijwilligers en Edelike Spijse zo veel energie in het eten en drinken hadden gestoken, het was heerlijk! Ook fijn dat er de mogelijkheid was om naast het symposium de vele bezoekers te kunnen spreken. Al met al, top!"
Honours College
The symposium was sponsored by the Honours College, Leiden University, and was organised by honours students.

Are you a BA1-student, and are you also interested in participating in the achaeology honours track "Crossing the Borders in World Archaeology"?
Please contact coordinator Maaike de Waal for more information.