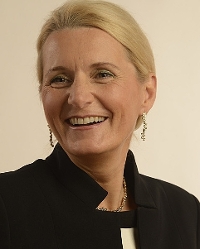 Pascale Ehrenfreund
Hoogleraar Astrobiologie
Pascale Ehrenfreund heeft degrees van de Unviersiteit van Wenen (Master of Science degree in Moleculaire Biologie; PhD in Sterrenkunde, Habilitatie in Astrochemie) en Webster Leiden (Master of Art degree in Management and Leadership). Zij was de eerste vrouwelijke president van de Austrian Science Fund (FWF) en was gekozen als CEO voor het Duitse Aerospace Center, wat haar de eerste vrouw maakt die een groot research bedrijf runt in Duitsland.
Ehrenfreunds interesses liggen bij de Interstellaire Chemie, ijs in ons Zonnestelstel en Interstellaire gebieden, organische moleculen in kometen en meteorieten en in Astrobiologie.
Haar expertises zijn de karakterisatie van kosmische stof in het lab met spectroscopische technieken en analytische methodes die relevant zijn in Interstellaire Chemie en in het onderzoek naar ons Zonnestelsel, de astronomische waarnemingen (optisch, IR, mm) van ijs en organisch materiaal in Interstellaire en Circumstellaire gebieden en het vergelijken van organische materialen in het Interstellair Medium, kometen en meteorieten (analyses van meteorieten en prebiotische chemie).
Hoogleraar Astrobiologie

Wiskunde en Natuurwetenschappen
Sterrewacht
Sterrewacht
Werkadres

Niels Bohrweg 2
2333 CA Leiden
Kamernummer 1109C

Contact

+31 71 527 5737
Geen relevante nevenwerkzaamheden