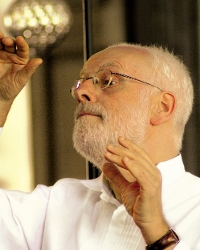 Ton Koopman
Professor emeritus of Historically Informed Performance of Early Music
Name

Prof.dr. A.G.M. Koopman

Telephone

E-mail
Ton Koopman is a Professor emeritus of Historically Informed Performance of Early Music at the Academy of Creative and Performing Arts.
About Prof. dr. h.c. Ton Koopman
Ton Koopman was born in Zwolle in 1944. After a classical education he studied organ, harpsichord and musicology in Amsterdam and was awarded the Prix d'Excellence for both instruments. From the beginning of his musical studies he was fascinated by authentic instruments and a performance style based on sound scholarship and in 1969, at the age of 25, he created his first Baroque orchestra. In 1979 he founded the Amsterdam Baroque Orchestra followed by the Amsterdam Baroque Choir in 1992.
Koopman's extensive and impressive activities as a soloist, accompanist and conductor have been recorded on a large number of LPs and CDs for labels like Erato, Teldec, Sony, Philips and DG, besides his own record label "Antoine Marchand", distributed by Challenge Records.
Over the course of a forty-five-year career Ton Koopman has appeared in the most important concert halls and festivals of the five continents. As an organist he has performed on the most prestigious historical instruments of Europe, and as a harpsichord player and conductor of the Amsterdam Baroque Orchestra & Choir he has been a regular guest at venues which include the Concertgebouw in Amsterdam, the Théatre des Champs-Elysées in Paris, the Philharmonie in Munich, the Alte Oper in Frankfurt, the Lincoln Center and Carnegie Hall in New York and leading concert halls in Vienna, London, Berlin, Brussels, Madrid, Rome, Salzburg, Tokyo and Osaka.
Professor emeritus of Historically Informed Performance of Early Music
Faculty of Humanities
Academie der Kunsten
Work address
P.J. Veth
Nonnensteeg 1-3
2311 VJ Leiden
Contact
No relevant ancillary activities