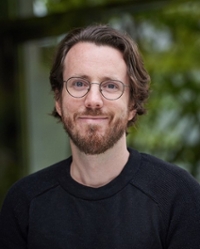 Thomas Fossen
University Lecturer Political Philosophy
Name

Dr. T. Fossen

Telephone

E-mail

ORCID iD
Thomas Fossen is a University Lecturer at the Institute for Philosophy.
Thomas Fossen is assistant professor of political philosophy.
Research interests
Fossen's research is in political philosophy (or political theory), at the intersection with political science and philosophy of language. His work addresses questions of political legitimacy, political obligation and political representation. Another strand of his research is in democratic theory, including theories of agonistic democracy and applied work on online Voting Advice Applications. He also has an interest in theoretical methods and approaches and has written on philosophical pragmatism and political realism.
His book Facing Authority: Legitimacy, Judgment, and the Practical Point of View is forthcoming with Oxford University Press. The book examines what is involved in judging the legitimacy of a regime from a practical standpoint, in the face of disagreement and uncertainty. It develops a pragmatist approach to political legitimacy, as an alternative to the predominant moralist and realist approaches.
Bio
Fossen studied political science and philosophy at Leiden University and the University of California at Berkeley and received his PhD in Philosophy from Utrecht University in 2011. He worked as a postdoc in Leiden on conceptions of conflict in democratic theory and in Utrecht on Voting Advice Applications and political theory. Fossen held visiting positions at the University of Chicago, KU Leuven (Belgium) and the University of Essex. In 2015 he received a Veni grant from NWO. In 2020–2021 he was a member of the School of Social Science at the Institute for Advanced Study in Princeton and a Humboldt Fellow at the Forschungskolleg Humanwissenschaften (Goethe University, Frankfurt).
(Profile photo by Stefanie Wetzel)
University Lecturer Political Philosophy
Faculty of Humanities
Instituut voor Wijsbegeerte
Work address
P.J. Veth
Nonnensteeg 1-3
2311 VJ Leiden
Room number 2.14
Contact
No relevant ancillary activities