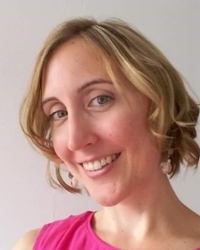 Sanne van Luenen
Project Manager
Name

Dr. S. van Luenen

Telephone

E-mail

ORCID iD
I studied Nursing (2002-2006) and completed my Research Master Clinical and Health Psychology at Leiden University in 2013. For my PhD (obtained in 2019) I conducted a randomized controlled trial into the effectiveness of an online self-help intervention for people with HIV and depressive symptoms.
Research
I am the local coordinator of the Caring Universities project, in which 4 Dutch universities (Leiden, VU, Utrecht and Maastricht) set out to explore and improve student mental wellbeing by means of e-mental health solutions.
My research focuses on the online treatment of mental health problems in general and in people with HIV in particular.
Education
I teach various courses within the bachelor and master of (clinical) psychology. I'm also an internship and thesis supervisor.
Relevant links
Project Manager
Faculteit der Sociale Wetenschappen
Instituut Psychologie
Klinische Psychologie
Skills trainer / project coordinator
Faculteit der Sociale Wetenschappen
Instituut Psychologie
Klinische Psychologie
No relevant ancillary activities