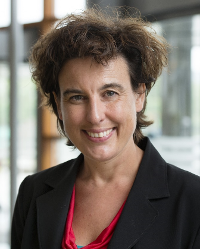 Sandra van Dijk
Assistant Professor
Name

Dr. S. van Dijk

Telephone

E-mail

ORCID iD
Research on self-management and e-health
'How do people cope with serious threats to their health?' This simple but intriguing question summarizes my research ever since being a student. My research projects mainly focus on self-management for patients with chronic kidney disease: Together with patients and colleagues from different disciplines we build and evaluate new and personalized care systems that support people in coping with their disease and adopting a healthy life-style. In addition to these practical approaches, I am very interested in new methods that enable a more fundamental understanding of how people cope with threat to unravel the associations between disease-related symptoms such as fatigue and depression, psychological factors and biological markers.
Teaching
For many years I have been a communication trainer within the faculty of medicine with a specialization in teaching motivational interviewing, aimed at gently guiding people towards making positive changes in their lives. Nowadays, I am involved in several courses in psychology and I am coordinator of the module 'The older Individual' in the international and interdisciplinary LUMC master Vitality & Ageing.
Grants (primary author grants in collaboration with colleagues)
E-GOAL study. Identifying and treating psychological barriers for adopting a healthy life among patients with chronic kidney disease. Personal grant by the Dutch Kidney Foundation (2016-2020).
Grant of the board of directors of the LUMC to evaluate new e-health approaches as a project leader 'self-management' at the department of Health Care Innovation (2015-2017).
SUBLIME study. Reducing salt-intake. Cost-effectiveness of online self-regulation embedded in regular care for chronic kidney disease patients. Grants by ZonMw and the Dutch Kidney Foundation (2012-2016).
COACH'D study. After the Health Check in vulnerable groups: an individually tailored self-management intervention led by Community Health Workers (COACH'D). Grant by Lekker Lang Leven (2010-2014).
ADMIRE study. Assessment a of a Disease management system with Medical devices In REnal disease. Grants by ZonMw and the Dutch Kidney Foundation (2010-2014).
ESMO study. Effects of Self-Monitoring on Outcome of Chronic Kidney Disease. Grants by ZonMw and the Dutch Kidney Foundation (2009-2013).
CHECK'D study. Health checks in vulnerable groups: the role of beliefs and expectations. Grant by Lekker Lang Leven (2009-2013).
Changes & Choices follow up. Long-term effects of genetic counseling for familial breast cancer focusing on women with uninformative DNA test results: risk management strategies, perceived risk and psychological well-being. Grant by the Dutch Cancer Society (2003-2006).
Assistant Professor
Faculteit der Sociale Wetenschappen
Instituut Psychologie
Gezondheids, Medische- Neuropsychologie
Onderwijs Geneeskunde en nascholing