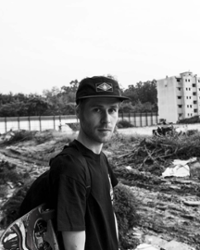 Sander Hölsgens
Lecturer
Name

Dr. S.R.J.J. Hölsgens

Telephone

E-mail
Sander Hölsgens (PhD, UCL) is an anthropologist who mobilises experimental media, installation, and performance to scrutinise socio-cultural practises of resistance. As a lecturer at the Leiden Institute of Cultural Anthropology and Development Sociology, he teaches practice-led courses in visual ethnography, audiovisual culture, and storytelling.
Sander Hölsgens' current research continues to explore:
the anthropology of skateboarding as a contested practice of resistance
engaged and critical pedagogy as transformative approaches to education
the feminist critiques of emerging media technologies
Students writing theses on these areas of study are particularly invited to reach out for supervisory support.
Sander is one of the founding members of Pushing Boarders, a platform tracing the social impact of skateboarding worldwide. He curates the Rotterdam-based film festival Field Recordings and is part of the Film Place Collective. Sander acted as the Visual and New Media editor of Cultural Anthropology between 2015 and 2019, and is the author of 'Skateboarding in Seoul: A Sensory Ethnography' (2021).
Prior to joining Leiden, Sander taught at University College London and University of Groningen, where he completed two NWO-funded research projects.
Next to his lectureship at Leiden University, Sander also teaches at HU University of Applied Sciences Utrecht.
Lecturer
Faculteit der Sociale Wetenschappen
Culturele Antropologie/ Ontw. Sociologie
Lecturer Creative Business