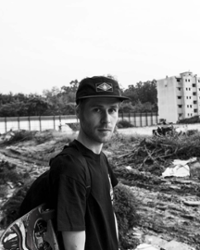 Sander Hölsgens
Lecturer
Name

Dr. S.R.J.J. Hölsgens

Telephone

E-mail

ORCID iD
Sander Hölsgens (PhD, UCL) is an anthropologist and educator. As a lecturer at the Leiden Institute of Cultural Anthropology and Development Sociology, he teaches practice-led courses in visual ethnography and audiovisual culture.
Sander Hölsgens' current research continues to explore:
the anthropology of skateboarding

engaged and critical pedagogies

phenomenologies of skill acquisition

emerging and disappearing media technologies
Students writing theses on these areas of study are particularly invited to reach out for supervisory support.
Sander is one of the founding members of Pushing Boarders, a platform tracing the social impact of skateboarding worldwide. He curates the Rotterdam-based film festival Field Recordings and is part of the Film Place Collective. Sander acted as the Visual and New Media editor of Cultural Anthropology between 2015 and 2019, and is the author of 'Skateboarding in Seoul: A Sensory Ethnography' (2021).
Prior to joining Leiden, Sander taught at University College London, where he co-ran The Bartlett Film+Place+Architecture Network and contributed extensively to the UCL Writing Lab. At the University of Groningen, he completed two NWO-funded research projects: 1) Exploring Journalism's Limits: Enacting and Theorising the Boundaries of the Journalistic Field (postdoc, 2018-2019) and 2) Documenting complexity: Intersections of Documentary, Activism and Technological Innovation (co-applicant and postdoc, 2019-2021).
Lecturer
Faculteit der Sociale Wetenschappen
Culturele Antropologie/ Ontw. Sociologie
Hölsgens S.R.J.J. (17 February 2023), Animal Crossing en de grenzen van culturele representatie: Gamer.nl [blog entry].
Hölsgens S.R.J.J. (10 January 2023), Towards a technical pedagogy . Leiden Anthropology Blog. Leiden: Leiden University [blog entry].
Hölsgens S.R.J.J., Loewen R., Nguyen T.P., Paveck H. & Sborgi A.V. (2022), 12/13/18/19: the making of Blind Spot. In: Mindrup M. & Chee L. (Eds.) Remote practices: architecture at a distance. London: Lund Humphries. 129-136.
Hölsgens S. (11 May 2022), We need to talk about skateboarding. Leiden Anthropology Blog: Leiden University [blog entry].
Hölsgens S.R.J.J. (2021), Skateboarding in Seoul: a sensory ethnography. Groningen: University of Groningen Press.
Hölsgens S.R.J.J. (2020), Review of: Snyder G.J. Skateboarding LA: inside professional street skateboarding, Journal of the Royal Anthropological Institute 26(4): 917-918.
Hölsgens Sander Wildt de Saskia Witschge Tamara (2020), Walking the Newsroom: Towards a Sensory Experience of Journalism, The Journal for Artistic Research 21.
Curator and programmer
(Art) Criticism, podcasts, interviews
Co-founder and programmer