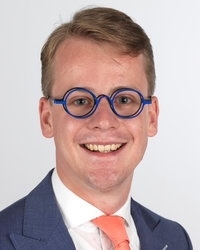 Ruben van Uden
PhD candidate
Name

Mr. R.C.P. van Uden LLM

Telephone

E-mail
About
Ruben van Uden (1992) studied Law (LLB) and Civil law (LLM, cum laude) at Leiden Law School. After finishing his LLM degree in Leiden he studied Comparative and European Private Law at the University of Edinburgh (postgraduate LLM, with distinction).
During his studies Ruben gained practical experience at several Dutch law firms, amongst others Huijzer Advocaten (Papendrecht) and NautaDutilh (Amsterdam).
Since 1 September 2017 Ruben is connected to the Institute for Private Law, department of Civil Law, as PhD Fellow. His research interests are primarily within the law of property.
PhD Research
Title PhD research: the balance between creditors.
Ruben's PhD research is about the balance between secured and unsecured creditors when it comes to (mostly through insolvency) the distribution of the assets of a company. Throughout the years the position of the secured creditors – creditors with proprietary rights on assets of the company – has been strengthened compared to the position of the unsecured creditors. This research project aims to identify the effects of this development, to explore to what extent these effects give rise to a revision of the current balance and to consider how such a revision could be done. Attention will be given to foreign developments in this area as well.
Languages
Dutch, English, German.
PhD candidate
Faculteit Rechtsgeleerdheid
Instituut voor Privaatrecht
Civiel recht
No relevant ancillary activities