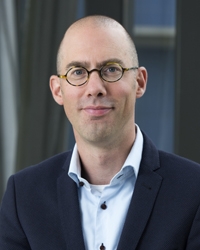 Rolf Groenwold
Professor Clinical Epidemiology, in particular methodology of research on medical interventions
Name

Dr. R.H.H. Groenwold

Telephone

E-mail
Rolf Groenwold is professor of Clinical Epdemiology, with a focus on methodology for studies of medical interventions. He received a personal reseach grant from the Netherlands Organization for Scientific Research (ZonMW) and a LUMC Fellowship.
More information about Rolf Groenwold
Statistical methods
Rolf Groenwold's research focuses on the evaluation and development of statistical methods, with which we can better and more efficiently investigate the effects of medical treatments. He focuses on methods for observational (non-experimental) research of beneficial effects of treatments (effectiveness) as well as adverse effects (side effects).
Academic career
Rolf Groenwold obtained his PhD in Epidemiology in 2009 based on his thesis 'Quantifying confounding'. He conducted his PhD research within the Julius Center for Health Sciences and Primary Care, UMC Utrecht. After his PhD he was appointed there as assistant professor and later as associate professor. In 2017 he was appointed at the LUMC in Leiden. Since 2018 he holds a position as Professor of Clinical Epidemiology. The title of his inaugural lecture is 'Read the medication label before use'.
Professor Clinical Epidemiology, in particular methodology of research on medical interventions
Faculteit Geneeskunde
Divisie 2
Reumatologie
Klinische Epidemiologie