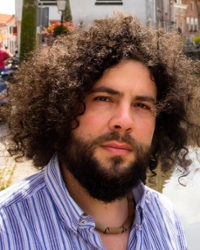 Roberto Arciero
PhD Candidate
Name

R. Arciero MA

Telephone

E-mail
Office days
Monday - Friday
Research
In my doctoral research, I investigate the human-water relation and agricultural practice of the Oxus Civilization (also known as Bactria-Margiana Archaeological Complex) between the 3rd and 2nd millennium BCE. In particular, I focus on the Murghab region in southern Turkmenistan, that was largely neglected over the last decades, notably by western scholars. However, such a region represents one of the main areas of the Oxus Civilization that witnessed an early urban development in Central Asia. Likewise, the ancient hydrological and irrigation system has been considered crucial by many scholars to the rise of the region's earliest proto-States. Yet, questions remain about how the water management system worked and who controlled it, its relation to the agricultural system, and its influence on the distribution of farming settlements between urban areas and periphery.
Within my doctoral Murghab Water Project (MWP) I aim to apply a multidisciplinary approach based on micro-scale investigation of the irrigation and agricultural system of the region. I argue that investigating the irrigation and agricultural system of two distinct micro-areas (urban and peripheral) is the most effective method to understand local water and agricultural management, and its impact on (distinct) settlements pattern. Specifically, the irrigation and agricultural system has been investigated by remote sensing analysis, classic survey, as well as OSL and stratigraphic analysis of ancient watercourses. Likewise, further data has been acquired by carbon isotope analysis of botanical samples in collaboration with the Max Planck Institute in Jena (Germany).
My Ph.D. research is under the supervision of Prof. Peter M.M.G. Akkermans and Dr. Bleda S. Düring and it was founded by the National Geographic Society/ Early Career Grant, Elise Mathilde Fund/LUF Grant, and Asian Modernities and Tradition Grant (Leiden University).
Teaching activities
Roberto Arciero worked as a Teaching Assistant between 2017 and 2021 for several BA1 courses at the Faculty of Archaeology, Leiden University. Specifically - along with teachers - I taught, coordinated, and designed campus-based and online tutorials. Moreover, along with Dr. Victor Klinkenberg I taught the course "Designing Archaeological Research" for BA3. In 2021, I obtained the University Teaching Qualification (Basis Kwalificatie Onderwijs, BKO).
Curriculum vitae
Roberto Arciero obtained a BA in Ancient History at Alma Mater Studiorum-University of Bologna (Italy). From the same institution, he obtained a two years Master's degree cum Laude in Archaeology, focusing on Near Eastern Archaeology. His research interests are related to topics of water and agricultural management, settlement systems, and social changes in Central Asia and Easter Iran between the 3rd and 2nd millennium BCE.
Since 2009, he has been a member of the longstanding "Archaeological Map of the Murghab Delta Project" that investigated the Murghab region (southern Turkmenistan) since 1989, and terminated in 2013. He is now a senior member of the "Togolok Archaeological Project-TAP" under ISMEO/ University of Bologna in Turkmenistan and an active member of "Project for the Ancient Murghab-PAM" under German Archaeological Institute/ Washington University in Saint Louis.
Since 2007 Roberto Arciero has taken part in numerous archaeological field surveys and excavations in Italy, Greece, Central Asia (Turkmenistan, Uzbekistan), Arabian Peninsula (Oman), and eastern Africa (Eritrea). Besides, he also worked for two years as contract archaeologist in Italy.
Roberto Arciero is a National Geographic Explorer.
PhD Candidate
Faculteit Archeologie
World Archaeology
Near Eastern
Work address
Van Steenis
Einsteinweg 2
2333 CC Leiden
Room number B1.01
Contact