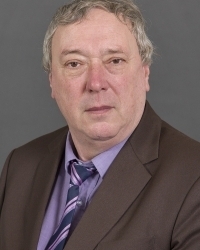 Richard Griffiths
Professor emeritus of International Studies
Name

Prof.dr. R.T. Griffiths

Telephone

E-mail
Richard Griffiths is an emeritus professor at International Studies.
Before joining the Centre for Innovation, The Hague, Richard worked as a professor of economic history at the University of Manchester, the Free University Amsterdam, the European University Institute in Florence and Leiden University.
At Leiden Richard also set up the MA in European Union Studies and the BA in International Studies. His expertise lies in the field of European integration and in the critical analysis of the data employed in social science and economics analyses. He is one of the few academics still around who remembers when writing was done with a pen and a set of index cards. He enjoys syllabus design and experimenting with new innovatory teaching methods.
Prof. Richard Griffiths graduated in economic history and Russian studies at Swansea University College and holds a Phd in History from Cambridge university.
Professor emeritus of International Studies
Faculty of Humanities
Faculteitsbureau
International Studies