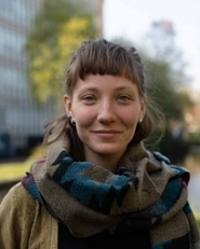 Ola Gracjasz
PhD candidate
Name

A.Z. Gracjasz MSc

Telephone

E-mail

ORCID iD
Short CV
Ola Gracjasz is a PhD candidate at the Institute of Cultural Anthropology and Development Sociology. She is part of the ERC project led by Professor Cristina Grasseni "Food citizens? Collective food procurement in European cities: solidarity and diversity, skills and scales", investigating emerging forms of food citizenship.
She holds a MSc in Cultural Anthropology from Utrecht University (NL) and BA in Sociology from University of York (EN).
Awards
Nieboer award: The best Master thesis 2017, Department of Cultural Anthropology, Utrecht University.
Supervisor
Relevant links
PhD candidate
Faculteit der Sociale Wetenschappen
Culturele Antropologie/ Ontw. Sociologie
No relevant ancillary activities