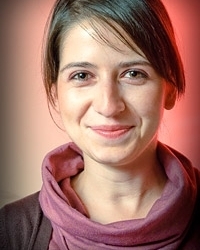 Niki Antypa
Assistant Professor
Name

Dr. N. Antypa

Telephone

E-mail
Niki Antypa
English Profile Page
Niki Antypa
Dr. Niki Antypa was born on the island of Chios, Greece. During the years 2000-2004 she studied Psychology at the American College of Greece where she obtained the degree Bachelor of Arts in Psychology with High Distinction. She then moved to the Netherlands to study clinical psychology and at the end of 2006 she obtained her MSc in Psychology (cum laude) from Leiden University. From 2007 till 2011 she worked at the department of Clinical Psychology as a PhD student and in June 2011 she obtained her PhD degree. Her dissertation focused on cognitive vulnerability to depression, including the influence of genetic, environmental and nutritional factors.
With a Rubicon grant awarded by N.W.O. (Dutch Scientific Organization) she carried out post-doctoral research at the Institute of Psychiatry, at the University of Bologna, in Italy. Since May 2014, she works as an Assistant Professor at the department of Clinical Psychology.
Research
Her research focuses on the area of chronobiology of depression and suicide. She is particularly interested in the role of the circadian clock (a person's chronotype) in interaction with other psychological and environmental influences that determine people's vulnerability to depression and suicide (chronobiology of depression). Currently she is testing a pilot intervention program that aims to improve sleep and mood problems in a student population: the SMILE study.
Teaching
Thesis supervision (bachelor and master); Clinical Internship supervision; Internal Practice Internship instructor and supervisor
Lecturer for Biological Underpinnings of Psychopathology, Frontiers of Science course (guest Lecturer LUMC)
Memberships
Member of the Educational committee of the Dutch Association of Sleep-Wake Research (Nederlandse vereniging voor Slaap – Waak Onderzoek) https://www.nswo.nl/ .
Assistant Professor
Faculteit der Sociale Wetenschappen
Instituut Psychologie
Klinische Psychologie
No relevant ancillary activities