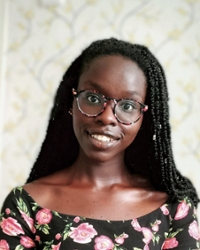 Lucy Opoka
PhD candidate
Name

L.A. Opoka LLM

Telephone

E-mail
Lucy Ataro Opoka is since 1st September 2021, connected to Meijers Research Institute and Graduate School as a PhD Research Candidate.
More information about Lucy Opoka
Education
Lucy Ataro Opoka holds a Bachelor's Degree in Law from the Catholic University of Eastern Africa, and an Advanced Master's Degree in International Children's Rights from Leiden University from where she graduated in 2019.
Career
After attaining her Bachelor's degree in 2016, Lucy worked as a legal pupil for John Bwire & Associate Advocates in Kenya. Once she attained her Master's degree in the Netherlands, Lucy worked as an Assistant Human Rights Officer (Children and the Family) at Stahili Foundation a child protection organization based in Kenya with links in The Netherlands and subsequently as an International Justice Associate Intern at Africa Legal Aid (AFLA) and international justice and human rights organisation in The Hague. Up until the start of her PhD Lucy worked as a World Congress Intern with Terre des Hommes, Lausanne where she assisted the organizing committee in the preparation of the World Congress on Justice with Children.
Research areas and Interests
Lucy's research and interests have centred around Human Rights Law at the regional level while drawing some comparative analysis with international law. Her Bachelor's thesis on "Transnational Criminals and their Rights under the Kenyan Constitution", involved an analysis of the rights of foreign accused persons in the Kenyan justice system and how they match international legal standards. Her Master's thesis titled "Out of the Sphere: The Accessibility of Children's Rights to Stateless Children in Kenya and South Africa", examined the extent to which the rights of stateless children are upheld. By analysing relevant case studies in South Africa and Kenya she was able to develop relevant recommendations to uphold her argument that children's rights including the right to nationality and citizenship should be applied to all children indiscriminately, in order to eradicate statelessness.
PhD candidate
Faculteit Rechtsgeleerdheid
Instituut voor Privaatrecht
Jeugdrecht
No relevant ancillary activities