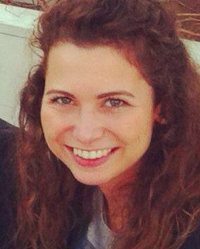 Lisanne van Houtum
PhD Candidate
Name

L.A.E.M. van Houtum MSc

Telephone

E-mail

ORCID iD
Summary
Lisanne van Houtum received her BSc in Psychobiology (2012) and her MSc in Neuroscience (2014) from the University of Amsterdam. From 2014-2015 she was involved in an fMRI research of food evaluation and food choice in children and teenagers with obesity at UMC Utrecht. From 2016-2017 she was employed at Utrecht University as a junior researcher where she focused on odor perception and emotion. Currently she is working as a PhD candidate and involved in the RE-PAIR study (NWO Vici-project of Prof. dr. Bernet Elzinga) at the Clinical Psychology Unit of Leiden University. This study examines the bidirectional interplay between parent-adolescent interactions and depressive symptoms in adolescents.
Research
Lisanne is involved as PhD candidate in the RE-PAIR study. Her fMRI-project focuses on identifying (dysfunctional) processes in the social brain, which may influence daily parent-adolescent interactions (as assessed by lab interactions and EMA) and vice versa, and might contribute to the development and maintenance of depressive symptoms in adolescents.
PhD Candidate
Faculteit der Sociale Wetenschappen
Instituut Psychologie
Klinische Psychologie
Janssen L.H.C., Kullberg M.-L., Verkuil B., Zwieten N. van, Wever M.C.M., Houtum L.A.E.M. van, Wentholt W.G.M. & Elzinga B.M. (2020), Does the COVID-19 pandemic impact parents' and adolescents' well-being? An EMA-study on daily affect and parenting, PLOS One 15(10): e0240962.
De Groot J.H., Van Houtum L.A.E.M., Gortemaker I., Ye Y., Chen W., Zhou W. & Smeets M.A. (2018), Beyond the west: Chemosignaling of emotions transcends ethno-cultural boundaries., Psychoneuroendocrinology 98: 177-185.
No relevant ancillary activities