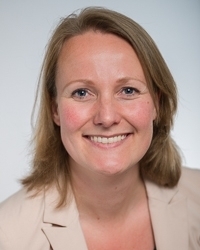 Marieke Tollenaar
Assistant Professor
Name

Dr. M.S. Tollenaar

Telephone

E-mail

ORCID iD
Academic Career
Assistant Professor: Clinical Psychology, Leiden University
(2011–present)

Post-doctoral researcher: Developmental Psychology, Radboud University Nijmegen (2009–2010)

PhD: Clinical, Health and Neuropsychology, Leiden University (2004–2009)
Title of thesis: Fading memories; the impact of stress hormones on the retrieval of emotional memories

Visiting Scholar: Cognitive Sciences, UC Berkeley, California, USA (2004)

Researcher: Medical Psychology, Academic Medical Center, Amsterdam (2003)

MA: Biological Psychology, Free University, Amsterdam (Cum Laude, 2003)
Research
My research is concerned with the relations between stress, emotions, and cognition, studying the effects of both early life stress (e.g. childhood maltreatment), and acute stress. The stress hormone cortisol plays a central role in these studies, as well as its supposed antithesis –oxytocin-, also known as 'the love hormone'. I make use of pharmacological manipulations, information on genetic polymorphisms, and study the role of stress in epigenetic patterns. The role of stress in processing and regulating emotional information are studied mostly with experimental research in the lab. For example, I have examined emotion recognition, empathy, attention to emotions and memory for emotional information. With this research I hope to give more insight into the underlying physiological processes that play a role in both healthy and disturbed emotion regulation, as well as the role of stressful circumstances on these processes.
Teaching
Supervision of theses students in the Clinical Psychology Master and Research Master
Supervision of Bachelor theses students
Clinical and Research Master internship supervision
Coordination and Lecturing in the course Psychological and Neurobiological Consequences of Child Abuse (Elective and minor course)
Group seminars in Experimental Clinical Psychology (Master's course)
Group seminars in Career orientation and planning (Bachelor's course)
Management tasks
Lab coordinator of the Clinical Psychology unit
Coordinator of the LIBC Stress & Emotion hotspot
Reviewer for
Biological Psychology; Journal of Psychosomatic Research; Journal of Psychophysiology; Psychoneuroendocrinology; Neurobiology of Learning and Memory; Hormones and Behavior; Neuroscience letters; Emotion; Stress and Health; Child Development; Development & Psychopathology; Depression and Anxiety; Cognitive, Affective, and Behavioral Neuroscience; Acta Psychologica.
Grants
Travel Grant of the Institute Psychology (2017) (3-month-visit to McGill University in Montreal)
KWF (Dutch Cancer Fund) grant (2012); co-PI with profs. Ellen Smets and Lorenz van Doornen. Titel: Recall of information: the role of oncologists' responding to patients' distress and psychophysiological arousal. An experimental study.
VSPA scholarship for semester at UC Berkeley by the Santander Group (2004)
Supervised PhD candidates
Leonie Visser (2012-2017). Recall of information: the role of oncologists' responding to patients' distress and psychophysiological arousal. An experimental study ( Cum Laude)
Lisa van den Berg (2011 – present). The role of neuronal emotional reactivity in the intergenerational transmission of abuse: a family study approach
Mirjam Wever & Lisanne van Houtum (Feb 2017 – present). Unraveling the Impact of Emotional Maltreatment on the Developing Brain.
Relevant links
LinkedIn
LIBC Stress & Emotion
Selected Publications
LJM van den Berg, MS Tollenaar, K Pittner, LHCG Compier-de Block, RSM Buisman, MH van IJzendoorn, BM Elzinga (2018).

Pass it on? The neural responses to rejection in the context of a family study on maltreatment, Social Cognitive and Affective Neuroscience, Volume 13, Issue 6, 1 June 2018, Pages 616–627

Tollenaar, M.S., Ruissen, M., Elzinga, B.M. & de Bruijn, E. R. A. (2017).

Does oxytocin lead to emotional interference during a working memory paradigm? Psychopharmacology, 234: 3467-3474
Tollenaar, M.S., Molendijk, M.L., Penninx, B.W.J.H., Milaneschi, Y. & Antypa, N. (2017). The association of childhood maltreatment with depression and anxiety is not moderated by the oxytocin receptor gene. Eur Arch Psychiatry Clin Neurosci 267: 517.

LNC Visser, MS Tollenaar, JA Bosch, LJP van Doornen, HCJM de Haes, & EMA Smets (2017).

Are psychophysiological arousal and self-reported emotional stress during an oncological consultation related to memory of medical information? An experimental study. Stress 20 (1), 103-111
Assistant Professor
Faculteit der Sociale Wetenschappen
Instituut Psychologie
Klinische Psychologie
No relevant ancillary activities