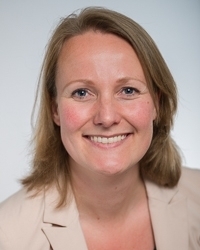 Marieke Tollenaar
Assistant Professor
Name

Dr. M.S. Tollenaar

Telephone

E-mail
Academic Career
Assistant Professor: Clinical Psychology, Leiden University
(2011–present)

Post-doctoral researcher: Developmental Psychology, Radboud University Nijmegen (2009–2010)

PhD: Clinical, Health and Neuropsychology, Leiden University (2004–2009)
Title of thesis: Fading memories; the impact of stress hormones on the retrieval of emotional memories

Visiting Scholar: Cognitive Sciences, UC Berkeley, California, USA (2004)

Researcher: Medical Psychology, Academic Medical Center, Amsterdam (2003)

MA: Biological Psychology, Free University, Amsterdam (Cum Laude, 2003)
Research
My research is concerned with the relations between stress, stress-related hormones and emotion regulation. Both the roles of early life stress (e.g. childhood maltreatment), as well as recent and acute stress are studied. With regard to hormones I focus on cortisol, known as 'the stress hormone', as well as on its supposed antithesis oxytocin, also known as 'the love hormone'. We make use of pharmacological manipulations of these hormones, but also study genetic polymorphisms. The role of these factors in processing and regulating emotional information are studied mostly with experimental research in the lab. For example, I have used experimental paradigms that measure emotion recognition, empathy, attention to emotions and memory for emotional words and pictures. With this research I hope to give more insight into the underlying physiological processes that play a role in both healthy and disturbed emotion regulation, as well as the role of stressful circumstances on these processes.
Teaching
Thesis supervision (Bachelor and Master); Internship supervision; Work groups in Experimental Clinical Psychology; Work groups in Psychopathology, Diagnostics and Treatment; Lectures in Stress, Health & Disease; Lectures in Psychological and Neurobiological Consequences of Child abuse.
Lab coordinator for Clinical Psychology; Member of the Ethics Committee of Psychology
Reviewer for
Biological Psychology; Journal of Psychosomatic Research; Journal of Psychophysiology; Psychoneuroendocrinology; Neurobiology of Learning and Memory; Hormones and Behavior; Neuroscience letters; Emotion; Stress and Health.
Selected Publications
Tollenaar MS, Chatzimanoli M, van der Wee N, Putman P. Enhanced orienting of attention in response to emotional gaze cues after oxytocin administration in healthy young men. Psychoneuroendocrinology, 2013, 38(9), 1797-802

Tollenaar, MS, Beijers R, Jansen J, Riksen-Walraven M, de Weerth, C. Maternal prenatal stress and cortisol reactivity to stressors in human infants (2010). Stress, Jan;14(1):53-65

Tollenaar MS, Elzinga BM, Spinhoven P, & Everaerd WA. The immediate and prolonged effects of cortisol and propranolol on declarative memory retrieval. Neurobiol Learn Mem. 2009 Jan; 91(1): 23-31

Tollenaar MS, Elzinga BM, Spinhoven P, & Everaerd W. Long-term outcomes of memory retrieval under stress (2008). Behavioral Neuroscience, Jun; 122(3): 697-703
Assistant Professor
Faculteit der Sociale Wetenschappen
Instituut Psychologie
Klinische Psychologie