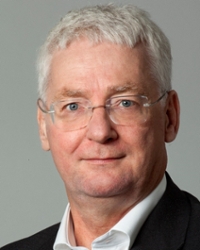 Johannes (Hans) G.E.M. Fraaije
Professor emeritus of Physical chemistry
Name

Prof.dr.ir. J.G.E.M. Fraaije

Telephone

E-mail
Prof. Dr. Ir. Johannes G.E.M. (Hans) Fraaije is Professor of Physical Chemistry at the Leiden Institute of Chemistry.
Virtual screening of novel materials by data-driven or physics-based modeling is a crucial enabler of digitalization in the chemical industries. In close cooperation with the industry, I study the fundamentals of integrating all components of the modeling toolbox: Artificial Intelligence, chemical informatics, thermodynamics, quantum chemistry, and mechanics.
Curriculum Vitae
Johannes (Hans) G.E.M. Fraaije (Ph.D., Wageningen University, 1987) started his career as a postdoc in the laboratory of Nobel Laureate P.G. de Gennes at the Collège de France (Paris), then took a research position in the department of Applied Mathematics (Akzo Corporate Research). After a commercial role within Akzo, he moved back to the academic world. In 1999 he became a full professor at Leiden University.
What I do
I enjoy working with the industry.
In 1990 I invented the 'Mesodyn' algorithm to describe the morphology of polymer mixtures. Mesodyn is distributed commercially by Biovia (Dassault Systèmes) and its predecessors since 1997.
In 1999 I founded my own modeling company, now known as Culgi B.V. The idea is this: to integrate all modeling algorithms in one unifying language.
When working in the industry, one may encounter a wide variety of materials.
Challenges could be: finding a better mesoscopic structure for a battery, a more effective chemical mixture for oil recovery, a more sustainable polymer material, a controlled release agent for anti-cancer medicine, a more effective robot-assisted chemical synthesis route, etcetera. There are thousands of such problems.
To make the modeling of all those systems possible, I realized that we need a new type of language that is easy to learn, controlled, and bullet-proof. My ambition is to make modeling as easy as speaking your mother tongue by a scripting language embedded in a graphical environment.
To achieve this, we need to integrate everything we can think of: Artificial Intelligence (or general statistical correlation methods), chemical informatics, quantum chemistry, molecular dynamics, coarse-grained modeling, chemical thermodynamics, and mechanics, and on top of all that: a vision how people can be happier by making and using models.
A particular topic that interests me most is a hybrid artificial intelligence – physics-based modeling system with applications in the automatic de- and re-composition of chemicals.
It is great fun to work on everything together at the same time: language, fundamental science, business. What more could one want?
Culgi B.V. is sponsored by the industry and European Union grants (see the Culgi website for more information).
Since October 30, 2020, Culgi B.V. is part of Siemens Digital Industries Software. I am on leave from Leiden University to advise Siemens while maintaining my position as Professor of Physical Chemistry at the Leiden Institute of Chemistry. I strive to connect public and private activities in Artificial Intelligence and physics-based modeling, especially concerning the societal relevance and acceptance of modeling.
Artificial Intelligence is an emerging focal point at Leiden University crossing the borders of the disciplinary institutes and faculties, connecting the life sciences, law, and language.
Professor emeritus of Physical chemistry
Science
Leiden Institute of Chemistry
LIC/Energy & Sustainability
LIC/ES/Soft Matter Chemistry
DGA software/Service bureau