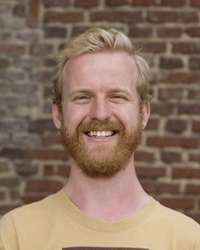 Jesse Wichers Schreur
Lecturer
Name

J.G. Wichers Schreur MA

Telephone

E-mail
I'm a lecturer teaching morphology, historical linguistics, Georgian and Ancient Greek⁠. In my research I focus on languages of the Caucasus, in areas of language contact, areal typology and reconstruction⁠.
More information about Jesse Wichers Schreur
Fields of interest
Descriptive and documentary linguistics

Morphological theory

Linguistic typology

Language contact and areal linguistics

Languages of the Caucasus

Historical-comparative linguistics

Digital Humanities
Research
In my current research (leading to my PhD thesis at the Goethe University of Frankfurt and EPHE in Paris), I focus on language contact in the Caucasus, specifically between the languages Tsova-Tush (East Caucasian) and Georgian (Kartvelian)⁠. I'm also interested in reconstructing pre-stages of both language families⁠.
Teaching activities
Historical linguistics

Morphology

Ancient Greek for Linguists

Georgian
Lecturer
Faculty of Humanities
Leiden Univ Centre for Linguistics
LUCL VIET
Work address
Reuvens
Reuvensplaats 3-4
2311 BE Leiden
Room number 2.31
Contact
No relevant ancillary activities