Jeffrey Fynn-Paul
University Lecturer
Name

Dr. J. Fynn-Paul

Telephone

E-mail
Jeffrey Fynn-Paul is a university lecturer at the Institute for History.
Fields of interest
Economic and social history of Europe and the Mediterranean 1300-present; urban institutions, state formation, public debt, class, and slavery in relation to economic growth.

I do both detailed archival work aimed at reconstructing urban experience in the later middle ages, and also bigger picture work on the impact of institutions over relatively large measures of time and geographical space.
Research
I work on the role of urban institutions in creating or hampering the conditions for economic growth, particularly in how they create, label, and either empower or disempower particular groups of people, for good or for ill.

My work presents several new paradigms for scholars working in the subfields of urban history, class, slavery, financial institutions, and military history of the later medieval and early modern periods in Europe and the Mediterranean. Collectively, my work has proposed the following principal theses, which I outline here as a useful overview for interested students and colleagues:

More general theories (applicable outside of Iberian studies):

1. The urban institutions of 'Latin' Europe after 1100 have been a significant contributor to the rise of democracy, capitalism, scientific thought, and human rights in global history. This aims to supplant e.g. Peter Clark's dominant notion that urban institutions did not much matter in these regards. ( Hist. and Globalization, Rise and Decline)

2. I have proposed a new model of 'class', that is, of 'horizontal' divisions in pre-modern (urban) societies, which can be used globally. The key insight is that 'class' can be created either by material factors such as disparities of wealth, or by socially-created institutional factors (e.g., law and/or custom), or a mixture of both. The argument is that societies which have strong institutional class-creators will often admit of less social mobility. ( Urban History, Rise and Decline)

3. With co-editors Marjolein 't Hart and Greet Vermeesch, I have proposed a new model of military entrepreneurialism: late medieval and early modern states can be characterized according to whether they attempted to work with or against the market when seeking to marshal military force. 'Republican' states tend to work with markets, while more 'monarchical' states tend to subvert it with monopolies, price fixing, or requisitioning. This partly supplants Charles Tilly's diachronic theory of military entrepreneurialism. ( War, Entrepreneurs, and the State)

4. The 'Slaving Zones' theory, which enhances our understanding of how 'Old World' slavery has worked over several millenia. It underlines slavery, following M. McCormick, as key to understanding a coherent 'Greater Mediterranean' cultural-economic system in the Middle Ages. ( Past & Present, Camb. World Hist. Slavery)

5. I have coined and clarified the concept of 'Renaissance Slavery,' meaning the phase of slavery in Europe which went into high gear after the Black Death. ( J. Med. Hist, Datini)

6. I have posited that a strict elite monogamy, which was globally unique to Christian lands by the later medieval/early modern period, was a key to reigning in the spread of slavery in Europe after 1348 when economic conditions favored it (and also to creating the very high levels of male/female equality found in late medieval Europe). (Datini, Camb. World Hist. Slavery)

7. There was a major 'market crash' and a 'great interest rate shift' in Western Europe where base interest rates went permanently from about 15% to 5% in precisely the 1370s. My work is some of the first to pinpoint the timing of this shift. ( Rise and Decline, Eur. Hist. Quarterly, War, Entrepreneurs)

Additionally, in the field of Iberian studies, my work also suggests that:

8. Catalan-Aragonese financial institutions were key to Aragonese imperial expansion in the western Mediterranean and southern Italy prior to the union with Castile. ( Rise and Decline)

9. The Crown of Aragon underwent the world's first full-scale 'Financial Revolution' in the 14th century. ( Rise and Decline, Eur. Hist. Quarterly)

10. Catalan urban regimes provided very well for their citizens during the fourteenth and early fifteenth centuries, even in comparison with cities in relatively wealthy and/or famous regions such as Tuscany. ( Rise and Decline, Munro Festschrift)
Principal Academic Publications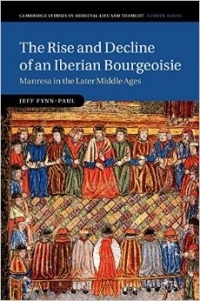 A. Monographs

1. Fynn-Paul, J. The Rise and Decline of an Iberian Bourgeoisie: Manresa in the Later Middle Ages. (Cambridge, 2015).
2. Fynn-Paul, J. Family, Work, and Household in Late Medieval Iberia: A Social History of Manresa in the Time of the Black Death. (Routledge, 2016, forthcoming).
B. Edited Volumes

1. Fynn-Paul, J., ed. War, Entrepreneurs and the State in Europe and the Mediterranean, 1300-1800(Brill, 2014).
2. Fynn-Paul, J. Damian Pargas, and Karwan Fatah-Black, eds., Slaving Zones: Cultural Identities, Ideologies, and Institutions in the Evolution of Global Slavery (Brill, 2016, forthcoming).
C. Articles and Chapters in Peer-Reviewed Volumes

1. "The Greater Mediterranean Slave Trade," in David Richardson, Stanley Engerman, David Eltis and Craig Perry, eds., The Cambridge World History of Slavery, Vol. 2, 500-1420. (Cambridge UP, forthcoming).

2. Fynn-Paul, J. "Reasons for the Limited Scope and Duration of 'Renaissance Slavery' in Southern Europe (ca. 1348-ca. 1750): A New Structuralist Analysis," in Schiavitù e servaggio nell'economia europea, secc. XI-XVII • Serfdom and Slavery in the European Economy, 11th-18th Centuries. Atti delle "Quarantunesima Settimana di Studi", 14-18 aprile 2013. Ed. Simonetta Cavaciocchi (Atti delle "Settimane di Studi" e altri Convegni, 45; Fondazione IstitutoInternazionale di Storia Economica "F. Datini"). (Firenze University Press, 2014).

3. (with M.C. 't Hart and G. Vermeesch), "Introduction: Entrepreneurs, Military Supply, and State Formation in the Late Medieval and Early Modern Periods: New Directions." in J. Fynn-Paul, ed., War, Entrepreneurs and the State in Europe and the Mediterranean, 1300-1800, (Brill, 2014).

4. Fynn-Paul, J. "The Role of Local Entrepreneurs in Military Finance and Supply during the Aragonese-Castilian War (1356-75)," in J. Fynn-Paul, ed., War, Entrepreneurs and the State.

5. Fynn-Paul, J. "Civic Debt, Civic Taxes, and Urban Unrest: A Catalan Key to Interpreting the Late Fourteenth-Century European Crisis," in Lawrin Armstrong et al., eds., Money, Markets and Trade in Late Medieval Europe: Essays in Honour of John H.A. Munro. (Brill, 2007).

6. Fynn-Paul, J. "'Democratic' Institutions and the Birth of Capitalism, Science, and Modern 'Global' Culture" in C. Antunes and K. Fatah-Black, eds., Explorations in History and Globalization (Routledge, 2016).

7. Fynn-Paul, J. "Investment Behaviour in the Netherlands during the Long Eighteenth Century: An Analysis based on the The Van der Muelen Family Portfolio, 1738-1814." in J. Zuijderduijn, D. Raeymaekers (eds.), Publieke financiën in de Lage Landen (1300-1800)- Vlaams-Nederlandse Vereniging voor Nieuwe Geschiedenis n. 14

D. Articles in Peer Reviewed Journals

1. Fynn-Paul, J. "Occupation, Family, and Inheritance in Fourteenth-Century Barcelona: A Socio-Economic Profile of One of Europe's Earliest Investing Publics," European History Quarterly 45:3 (2015), 1-29.
2. Fynn-Paul, J. "Let's Talk about Class: Framing an Institutionalist Typology of Class Relations in the Cities of Premodern Europe (c. 1200-c.1800), Urban History 41:4 (2014), 582-605.

3. Fynn-Paul, J. "Empire, Monotheism, and Slavery in the Greater Mediterranean Region from Antiquity through the Early Modern Era." Past and Present 205:1 (Dec. 2009), 3-40. (No. 1 Most Viewed article in Past and Present, October 2011.)

4. Fynn-Paul, J. "Tartars in Spain: Slaves and Slave Owners in Late Medieval Catalonia, ca. 1408," Journal of Medieval History 34:4 (Dec. 2008) 347-59. (14th most cited JMH article, January 2012.)
Active Research Grant
Spanish Ministerio de Economía y Competitividad (MINECO) grant: "Policies of disciplined dissent in the western Mediterranean in the 12th to early 16th centuries (HAR2013-44088-P)." Principal Investigator: Fabrizio Titone (Vittoria). Co-recipients: Barbara Rosenwein (Loyola), William J. Connell (Seton Hall), and Alma Poloni (Pisa).
Teaching activities
I have taught a range of courses ranging from first year through M.A., in English and Dutch, both at Leiden main campus and at Leiden's BA for International Studies programme in The Hague.

Leiden Campus:

Comparative Urban History
Honors Course: Global Challenges, Historical Responses
Statistics for Historians
Slavery and Post-Slavery: A Global Perspective

International Studies, The Hague:

Configuring the World (co-taught with Richard Griffiths) (fall)
Economics: Europe (fall)
Economics: North-America (fall)
Elective-- Best Practice: Legislating and Regulating a Better Economy (spring)
International Economics (spring)
Committee Work/Supervision
Departmental Teaching Committee (OLC)
Supervision of various M.A. and B.A. theses
University Lecturer
Faculty of Humanities
Institute for History
History and International Studies
Work address
Wijnhaven
Turfmarkt 99
2511 DP The Hague
Room number 5.03
Contact
No relevant ancillary activities