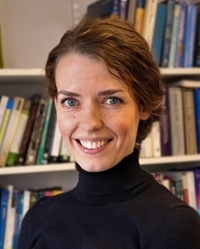 Ieke de Vries
Assistant Professor
Name

Dr. I. de Vries

Telephone

E-mail

ORCID iD
Ieke de Vries is an Assistant Professor of Criminology at the Institute of Criminal Law and Criminology.
General
Ieke de Vries is an Assistant Professor of Criminology at the Institute of Criminal Law and Criminology. She received her Ph.D. at Northeastern University (Boston, Massachusetts) and was previously appointed as an Assistant Professor in the College of Criminology and Criminal Justice at Florida State University (Tallahassee, Florida).
Research
In her doctoral work, Ieke de Vries utilized unique online and administrative data to identify the spatial and social mechanisms that drive commercial sex and sex trafficking in illicit massage businesses in the U.S. Specifically, she examined the geographic and spatial features of census tracts and cities that have illicit massage businesses, analyzed the mobility of clientele through a spatial network approach, and evaluated the impact of police shutdowns on the overall geographic distribution of illicit massage businesses. Her research was awarded a Research Fellowship from the National Institute of Justice in the U.S.
More broadly, her research agenda focuses on human trafficking and exploitation, law enforcement responses to emerging and newly defined crime types, digital opportunities for crime, risk factors for (repeat) victimization, and the broader socio-ecological context of crime.
To investigate these themes, she employs quantitative and computational methods, sometimes in addition to qualitative approaches. Examples of these methods are qualitative interviews, digital research methods, regression analyses, social network analyses, spatial analyses, and machine learning.
Ieke de Vries maintains a policy-oriented research agenda, which is rooted in her previous work as a policy researcher for the National Rapporteur on Trafficking in Human Beings and Sexual Violence against Children in the Netherlands. In her current work, she continues to collaborate with key stakeholders on national and international level.
Teaching
Within the bachelor's program Ieke de Vries teaches the courses Human Trafficking, Practical Explanatory Criminology and Research Skills, and the Summer School on Computational Methods in Criminology. She also supervises bachelor's and master's theses. In 2019, she was awarded the College of Social Science and Humanities Teaching Award at Northeastern University.
Assistant Professor
Faculteit Rechtsgeleerdheid
Instituut voor Strafrecht & Criminologie
Criminologie
Faculty Affiliate
Scientific Advisory Committee on the 2022 Edition of the Global Report on Trafficking in Persons