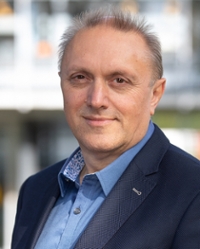 Hubertus Irth
Scientific director / Professor of Biomolecular Analysis
Name

Prof.dr. H. Irth

Telephone

E-mail
As professor of Biomolecular Analysis, Hubertus Irth focuses on the integration of chemical analysis and biological screening to develop new analytical screening technologies.
Hubertus Irth studied Environmental Technology at the Technical University of Berlin (Germany), receiving his diploma as Diplom-Ingenieur in 1984. In 1989 he obtained his PhD degree in Chemistry at the Vrije Universiteit Amsterdam. After a post-doc period at the Chemical Center of Lund University (Sweden), he became assistant professor at LACDR in 1991. In 1997, he started Screentec (later Kiadis Pharma) as a spin-off company from Leiden University. In 2005 he returned full time to academia, after having served as CEO and CSO of Kiadis.
In 1999, he was appointed as Full Professor at the Vrije Universiteit Amsterdam. He was involved in several industrial, EU and Top Institute Pharma projects in the area of analytical chemistry, toxicology and medicinal chemistry. From 2004-2006 and in 2009, he served as Scientific Director of the Department of Chemistry & Pharmaceutical Sciences.
In 2010, he became Dean of the Faculty of Sciences at the Vrije Universiteit Amsterdam, later also of the Faculty of Earth & Life Sciences. During his deanship, he was serving in the board of several academic institutions and research institutes.
Since September 1, 2016, Hubertus Irth is Scientific Director of the Leiden Academic Centre for Drug Research and a full professor in Biomolecular Analysis. His main research interest lies in the development of analytical screening technologies based on the integration of chemical analysis and biological screening. He contributed more than 150 research papers and several patents to this field, many in co-authorship with colleagues from a wide variety of disciplines.
Education
•1989, PhD, VU University Amsterdam, Department of Chemistry
•1984, Diplom-Ingenieur, Environmental Technology, Technical University of Berlin (Germany)
Career History
•2016 Dean (interim), Faculty of Sciences, Faculty of Earth & Life Sciences at VU University Amsterdam
•2014 Vice Dean, Faculty of Sciences, Faculty of Earth & Life Sciences at VU University Amsterdam
•2010-2013 Dean, Faculty of Sciences at VU University Amsterdam
•2009 Director of the Department of Chemistry & Pharmaceutical Sciences at VU University Amsterdam
•2006-2009 Member of AIMMS management team
•2004-2005 Director of the Department of Chemistry & Pharmaceutical Sciences at VU University Amsterdam
•2001-2005 Chief Scientific Officer of Kiadis BV (Leiden)
•1997 Founder and CEO of Screentec BV (later Kiadis BV), a spin-off company of Leiden University
•1999 Professor of Bioanalytical Chemistry at VU University Amsterdam
•1991-1999 Assistant Professor at Leiden University, LACDR, Division of Analytical BioSciences
•1990 Post-doc, University of Lund (Sweden), Department of Chemistry
•1989-1990 Post-doc at VU University Amsterdam
Peer-reviewed publications
155 publications, total 3500+ citations, h-index 32
Scientific director / Professor of Biomolecular Analysis
Science
Leiden Academic Centre for Drug Research
LACDR/Algemeen
No relevant ancillary activities