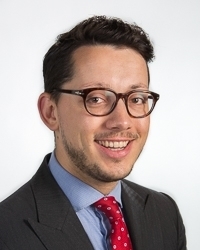 Franke Eleveld
PhD candidate
Name

F.H. Eleveld

Telephone

E-mail
Title research: NATO and its Member States: Issues of International Responsibility
Franke Eleveld is a PhD-candidate at the Grotius Centre for International Legal Studies at Leiden University under supervision of professor Blokker. His research interests include the law of international organizations and the law governing the use of force.
Franke studied law at Leiden University where he obtained his LL.M. cum laude in 2014. During his studies he was an active member of the Telders International Law Student Society. He participated in the Telders International Law Moot Court Competition and ranked second with his team for the overall score.
After his studies Franke took part in an intensive post graduate course on international relations at Clingendael Netherlands Institute of Foreign Relations. He also worked at the Netherlands Ministry of Foreign Affairs as a legal intern in the International Law Division.
PhD candidate
Faculteit Rechtsgeleerdheid
Instituut voor Publiekrecht
Grotius Centre for Intern Legal Studies