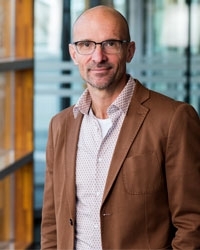 Cornelis Hokke
Professor Glycobiology of host-pathogen-interaction
Name

Prof.dr. C.H. Hokke

Telephone

E-mail
Cornelis H. (Ron) Hokke is professor of Glycobiology of Host-Pathogen Interaction and scientific staff member of the department of Parasitology at the Leiden University Medical Center
Glycobiology of host-pathogen interaction
All pathogens, ranging from the smallest microbe to the largest parasitic worm, interact with their human host at the molecular level through carbohydrate chains (glycans) and glycoconjugates. Our immune system responds to glycans of bacteria or parasites, and some viruses use glycans on the surface of our cells to adhere to. Glycans and their binding partners such as lectins or antibodies therefore play an essential role in infection. This also implies that glycans are important targets for the development of therapeutics, vaccines and diagnostics. This fascinating and innovative field of research is the main focus of my chair: the glycobiology of host-pathogen interaction.
My main research lines aim at the development of glycoconjugate based vaccines and diagnostics for worldwide important helminth infections such as schistosomiasis, and at the identification of immunomodulatory parasite-derived glycoconjugates for the development of novel therapeutics for inflammatory or allergic diseases.
Academic career
Cornelis Hokke studied chemistry at Utrecht University, and obtained his PhD at the same university. The title of his PhD thesis (1993) is 'Structure determination of glycoprotein glycans'. Subsequently, complementing his biochemical training, he further developed his interests in the medical glycobiology at the Vrije Universiteit Amsterdam. Just before the year 2000 he joined the department of Parasitology at the LUMC to apply his glycobiological expertise in the field of parasitic infections, and developed his fascination for the glycobiology of host-pathogen interaction. In March 2017 he was appointed the professor chair with the same title.
Prizes and honourable appointments
Cornelis Hokke authored >125 peer reviewed publications on glycobiology and/or parasitology research. Cornelis Hokke was chairman of the Netherlands Society for Glycobiology from 2007-2011. He is and was (co-)organiser of a multitude of national and international symposia in the fields of glycobiology and of parasitology. Currently he is editorial board member of the Glycoconjugate Journal and of Parasitology International, further underlining the his unique combined expertise in these two fields of research.
More information
https://www.lumc.nl/org/parasitologie/research/glycobiology/
Professor Glycobiology of host-pathogen-interaction
Faculteit Geneeskunde
Divisie 4
Infectious Diseases
Parasitologie
Editorial Board Member 'Parasitology International'
Editorial Board Member 'Glycoconjugate Journal'