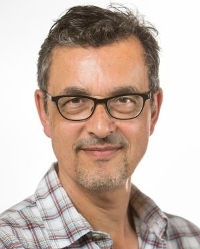 Carel Smith
Associate Professor
Name

Mr.dr. C.E. Smith

Telephone

E-mail
He graduated under prof. Hans Franken on the thesis Feit en Rechtsnorm (1998), a study of the relationship between rule and facts in the heuristics and legitimacy of the judicial decision. He is the author of, among other things, Ambtshalve aanvullen van rechtsgronden (Supplementing Legal Grounds ex officio) (Ars Aequi-Libri 2004), and Regels van rechtsvinding (Rules of Jurisdiction) (Boom Publishers 2005). He has edited various books, including The Rhetoric of Sincerity (Stanford University Press 2009) and Legal Argumentation and the Rule of Law (Eleven International Publishing 2016). He was connected to the Department of Encyclopedia and Philosophy of Law as legal philosopher.

Since 2006 he has been connected to the E.M. Meijer Institute for Legal Research as Head of Research Training (2006-2017) and Dean of PhD candidates (2011-2017).
From September 2017 to July 2018 he is affiliated with the Institute for Advanced Study in Princeton, where he works on the manuscript Certainty in Law: Metaphors, Institutions, and Exemplars. In this study, he investigates the way in which legal theory constructs the production of meaning as a rational, rule-based activity. Inspired by speech act theory and modern linguistics, he analyzes a series of debates on legal adjudication by exposing the conceptual metaphors that control these controversies.
He has been a member of various organizations within and outside the university (Faculty Board, Studium Generale, Association of Philosophy of Law, Chairman of the Study Programme Committee, Chairman of the LUF International Study Fund), and member of the editorial board of NJLP and Law and Method. He is currently a member of the editorial board of Leiden University Press and member of the Ethical Committee Pedagogy UL.
Associate Professor
Faculteit Rechtsgeleerdheid
Stafdienst Bedrijfsvoering
Stafdienst Onderzoek
Work address
Reuvensplaats
Reuvensplaats 3-4
2311 BE Leiden
Room number 121 B
Contact