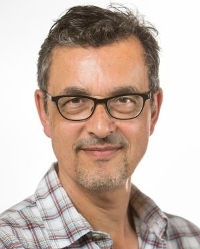 Carel Smith
Associate Professor
Name

Mr.dr. C.E. Smith

Telephone

E-mail

ORCID iD
He graduated under prof. Hans Franken on the thesis Fact and legal norm (1998), a study of the relationship between rule and facts in the heuristics and legitimacy of the judicial decision. He is the author of, among other, Supplementing legal grounds ex officio (2004), and Rules of legal adjudication (2005). He has edited various books, including The Rhetoric of Sincerity (Stanford University Press 2009) and Legal Argumentation and the Rule of Law (Eleven International Publishing 2016). Since 2018 he is connected to the Legal history department.
He taught a variety of courses in philosophy of law, both in Dutch and English, at the undergraduate and graduate level. Between 2006-2017, he was associated with the E.M. Meijers Institute for legal scientific research as Director research courses (2006-2017) and Dean of PhD-candidates (2011-2017). Since 2018, he is associated with the department of Legal history. He currently teaches Roman Law (BA), Philosophy of Science (graduate students) and Metaphor and Rhetoric in Science and Law (Honours College).
He had visiting positions at UC Hastings College of the Law (San Francisco), NIAS (Wassenaar), and the Institute for Advanced Study (Princeton). Inspired by the philosophy of language and modern linguistics, he currently investigates the role of conceptual metaphors in legal theory.
He is a member of the editorial board Leiden University Press and a member of the Ethics Committee for Pedagogy UL.
Associate Professor
Faculteit Rechtsgeleerdheid
Bedrijfsvoering
Stafafdeling Onderzoek
No relevant ancillary activities