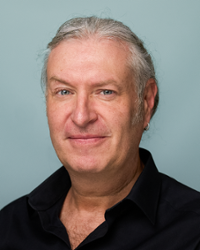 Bart Barendregt
Professor Anthropology of Digital Diversity
Name

Prof.dr. B.A. Barendregt

Telephone

E-mail

ORCID iD
Bart Barendregt is a professor (by special appointment) in the anthropology of Digital Diversity at the Leiden Institute of Cultural Anthropology and Sociology. His research and teaching straddles the fields of religious, media and area studies with a particular focus on the study of meaning-making processes through new emergent technologies. Most of Bart's ethnographic projects have focused on Muslim Southeast Asia, where since the early nineties he has conducted extensive fieldwork in Indonesia, Malaysia, and Singapore. Currently, he is the Principal Investigator of the NWO-VICI project One Among Zeroes |0100| Towards an Anthropology of Everyday AI in Islam.
Short CV
Bart Barendregt is a professor (by special appointment) in the anthropology of Digital Diversity and currently the scientific director of the Leiden Institute of Cultural Anthropology and Development Sociology. Bart has an interest in Southeast Asian audio heritage, Islamic culture and digital diversity. At present he is the Principal Investigator of the NWO-VICI project One Among Zeroes |0100| Towards an Anthropology of Everyday AI in Islam."
Bart is a board member of the Leiden University Centre for the Study of Islam and Society (LUCIS) and for the last six years served as a board member and national representative of the European Society of Southeast Asian Studies, as well as a member of its Nikkei Asian Review Social Science Book Prize committee. Bart acted a visiting professor (teaching and research): at the National University of Malaysia (2010, 2012), Universitas Brawijaya (2017) and Universitas Muhammadiyah Yogyakarta (2018) in Indonesia, and Palacky University Olomouc in the Czech Republic (2018).
He has contributed to blogs and radio programs. In 2017 and 2018 Bart was invited to act as a curator and academic advisor for the Europalia Indonesia biennale.
Together with Prof. Ariel Heryanto (Australian National University) and Prof. Merlyna Lim Bart is editor of Southeast Asia Mediated, a 'KITLV Verhandelingen series' that is published by Brill Publishers.
Research
Bart's research focuses on the postcolonial musical heritage of Muslim Southeast Asia, Islam and new emergent technologies, with a persistent focus on the theme of digital diversity.
As for his explorations into musical heritage, Bart has recently worked with Margaret Kartomi (Monash University, Melbourne) and Rina Martiara (ISI Yogyakarta) in the Australian Research Council's Project on Revitalising the Musical Arts of Indonesia's Lampung Province. This ethnographic project aimed to document how and to what extent one indigenous group in the post-Suharto era of
regional autonomy in Indonesia is improving its status through affirmative political action based on its traditional musical arts, philosophy and Islamic beliefs. With Wayne Modest (Research Centre for Material Culture) and Anette Hoffmann (Akademie der Bildende Künste Wien), Bart also worked on the Resonating Pasts, a small research which investigated the potential of missionary and museum collections, and their possible role in rewriting colonial histories. This theme was also touched upon in the open access publication Recollecting Resonances (Brill 2014, with Els Bogaerts).
From 2010 until mid-2015 Bart co-coordinated the NWO Articulation of Modernity project. In this transdisciplinary project, anthropologists, historians and musicologists studied how new media technologies have impacted the domain of popular and everyday culture in Southeast Asia throughout the 20th century. As part of this project a digital library with Southeast Asian music recordings was established at the Leiden University Libraries, which can be found and listened to here. It also resulted into the open access publication Sonic Modernities in the Malay World, the edited volume Female Voices of Asian Modernities (University of Hawaii Press, 2017 with Andrew Weintraub) and the book Banal Beats, Muted Histories (AUP, 2017 with Peter Keppy and Henk Schulte Nordholt). Bart's sub-project - soon to be published as single-authored monograph - studied Islamist musicians and activists who use digital affordances such as Instagram and WhatsApp for proselytizing and reaching new audiences.
Over the years Bart has developed his own line of research specialising in the theme of digital diversity. From 2010 to 2014 he was as a Senior Researcher involved in the NWO project 'The Future is Elsewhere', comparing digital futures in Europe and North America, Eastern Asia and Southeast Asia, as they appear in 'science fiction' and 'development discourse'. And from 2017 to 2019, Bart co-coordinated Leiden University's project 'Critical Approaches to New Asian Media Ecologies', in which he investigated Islamic ideas of Information society. Both projects served as a stepping stone to the current NWO-Vici project on AI in Islam. Bart presently also co-coordinates an interfaculty, multiannual cooperation between Leiden University, Leiden University Medical Centre (LUMC) and Universitas Indonesia, investigating smart healthy and sustainable cities from an interdisciplinary perspective.
NWO-Vici Project One Among Zeroes |0100|
The |0100| Project investigates the Islamic Information Society's most debated component – artificial intelligence – with multimodal and mixed methods, comparing and contrasting narratives and imagery of AI-religious-futures in the national settings of Malaysia, Indonesia and Singapore, each with a considerable yet differently positioned Muslim population. It situates ethical dilemmas surrounding algorithms, bots and machine learning by ethnographically and longitudinally observing and interviewing makers and users. Innovatively using a historical analysis of future-making discourse, we probe big and 'thick' data in situ and through digital ethnography, and use infographics, animations and comics to both map and represent 'scripted futures'. |0100| delivers salient ethnographic evidence, as well as an overarching socio-anthropological analysis, of what digital everyday religion is like, how Southeast Asians use AI in everyday life, and how digital technology contributes to exciting societal experiments and ethical dilemmas.
Relevant links
Professor Anthropology of Digital Diversity
Faculteit der Sociale Wetenschappen
Culturele Antropologie/ Ontw. Sociologie
Secretary
UNESCO Chair Anthropology of Digital Diversity
external advisor / member commitee